Don't read any further if you are looking for insight into the office market or long-term migration trends in or out of cities. We don't know yet. We won't know until COVID-19 is no longer a public health threat. (If you'd like to read what some smart people think about the office market, read the feature article in the Fall DevelopingPittsburgh.)  After six months of data, however, it's possible to begin to see the impact on commercial real estate located in downtowns. Wells Fargo Economics Group published research on the debilitating impact of the pandemic on central business district (CBD) businesses that is worth a read.
The upshot of the report is that occupancy in downtown workplaces is so much lower that the ripple effect is reaching wider than most of us think. It's easy to understand that bars, restaurants, and hotels will be hard hit by the lost traffic due to work from home. Travel is picking up slightly but it does not appear that the uptick is being felt in CBD hotels. The impact on apartments is more derivative. Downtown apartments are popular for a variety of reasons but central to their appeal is the proximity to work. People who rent apartments are willing to pay a bit more for a downtown location. With work from home rendering the proximity attraction null and void, it appears people are choosing to move to the suburbs to save a few bucks or get more space for the buck. I don't have any local data to see how that's playing out or not in Pittsburgh, but the chart below show the sharp divergence in trend for suburban vs. urban apartment vacancy.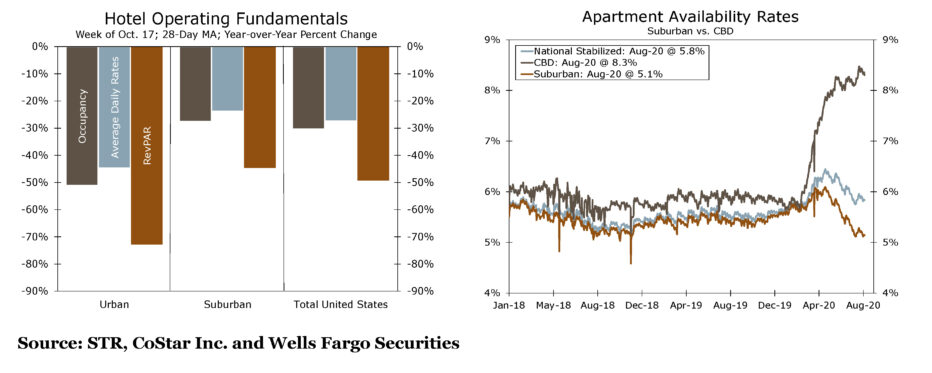 Pittsburgh's downtown has been impacted like most major metropolitan areas. Commercial office brokers estimate that buildings are at about 20% of the normal occupancy. That means most workers aren't coming into downtown (NOT that there is an 80% vacancy rate!).Until that changes there will be no recovery to normal for hospitality businesses. The lost traffic for restaurants and hotels translates into lost revenue for parking garages, and has a significant drag on revenues the city collects. Lost nights in the Cultural District magnify that ripple effect.
There is no silver lining if you are operating in one of those businesses being hard hit by the drop in demand. The only upside comes after a medical solution to the virus is widely-distributed. Notwithstanding idle speculation about some shift in where people will live/work/play, downtowns will be attractive for the reasons they have been attractive since the Middle Ages. It's a question of when not if.
One of the winning sectors in this losing economic moment has been the industrial warehouse sector. Driven by spiking online shopping, the demand for distribution space has jumped by double digits in 2020. That's showing up in permits around Pittsburgh. Last month Al. Neyer started work on a 400,000 square foot build-to-suit distribution center at Clinton Commerce Park in Findlay Township and a 150,000 square foot warehouse at the Hempfield Commerce Center in Westmoreland County. Also in Findlay Township, Buncher started work on Neighborhood 91, the advanced manufacturing campus being developed on behalf of Allegheny County and University of Pittsburgh. The first building is a 44,000 square foot multi-tenant facility that will be anchored by Wabtec. In other construction news, Rycon Construction has started work on the $6.5 million adaptive re-use of 2400 Smallman Street, which will be home to Pro Bike & Ride. MBM Contracting is doing the $3.1 million AGH pathology lab renovation. Omega Building Co. is renovating the space above Nakama Steak House into 23 residential units, a $4 million project. Sota Construction is general contractor for the $3.6 million renovation for the new office/studio for Headwaters Films in Bloomfield.
CORRECTION: The Oct 22 post (The Case for Getting the Stimulus Done) incorrectly listed DiMarco Construction as the contractor for Robinson Township's new $3.8 million police station. The general contractor is Masco Construction.