Even in the dead, slow summer in the middle of a pandemic there are still some interesting project announcements. Earlier this week, Clark Street Capital made a presentation of its proposed 300-unit apartment project at 3500 Forbes Avenue in Oakland. A rendering of the project by architects Dwell Design Studio is below. No CM announcement as yet. The $50-60 million tower is the third mid-rise project moving through development in the western Forbes-Fifth corridor in Oakland. Walnut Capital's innovation Research Tower is under construction. Wexford Health's research tower on Forbes a block to the east is moving through city approvals.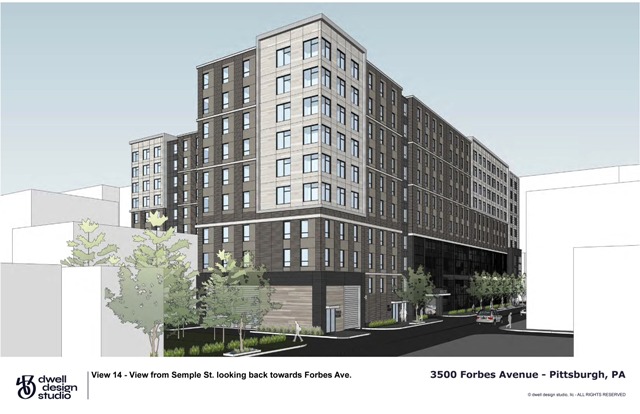 The city announced an innovative approach to the increased level of homelessness this week. A public/private partnership is developing the "Project Cares" building on Second Avenue. PJ Dick is the contractor for the $15 million, 45,000 square foot building, which is scheduled to start by fall.
In other construction news, TEDCO was the successful bidder on the new $1.7 million PNC branch in Rostraver Township. DiMarco Construction broke ground on a $4.6 million, 18,000 square foot new animal hospital for AVETS in Monroeville. Caliber Contracting Services was selected to build the new $2 million Kinder Care in McCandless. MBM Contracting will be the contractor for Dollar Bank's new 80,000 square foot headquarters space at 20 Stanwix Street.