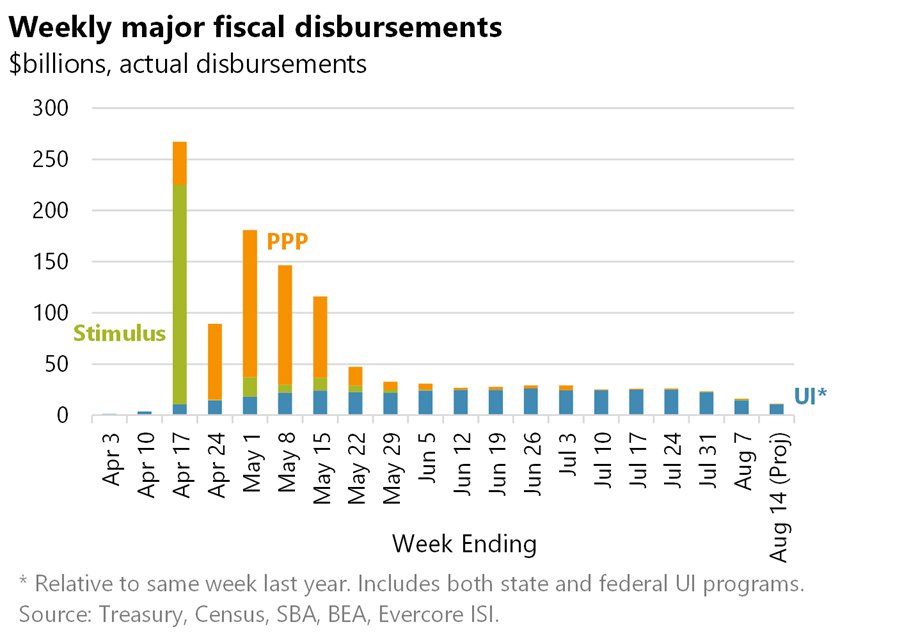 This isn't a great chart, at least not if you're hoping for an economic recovery to go into high gear. This chart was floating around the internet this week, highlighted by former U.S. Treasury Dept, economist Ernie Tedeschi (@ernietedschi). Stu Hoffman (@StuHoffmanPNC) from PNC commented on it. He's been unfailingly upbeat about the recovery but noted that the loss of $600 and slow walked unemployment compensation payments will drag August's consumer income and spending. Consumers have been fueling the recovery since April ended. This chart also explains why Congress needs to act so that consumers and businesses have some certainty about what to expect.
Housing starts jumped 23.4% from July 2019 to July 2020. That's a very hopeful sign. Much of the demand is being driven by record low mortgage rates but data from the sales suggests that the pent-up home ownership share of Millennials is finally adding to demand. Prices of homes, whether existing or new construction, are up 8% year-over-year. The sustained demand is helping but the short supply of homes for sale is really creating upward pressure. At the end of July, the inventory of homes for sale was 35 days worth. That's one-third what is necessary for a smoothly functioning housing market.
One harbinger of construction recovery that is languishing still is the AIA's Architectural Billings Index (ABI). The AIA surveys its member firms each month and the ABI tracks whether billings, design contracts, and inquiries are higher or lower than the previous month. The July ABI was at 40 (same as June). That means only four out of ten firms saw higher billings. Inquiries were at 49.1. Half the firms saw declining inquiries. With design leading construction by 9-12 months, the results from the ABI survey foretell a slow winter.
Construction bidding in Western PA remains slow. Competition is driving bids much lower than a year ago. Recent contract awards include Kokosing Construction landing the $14.16 million general contract on ALCOSAN's $19.1 Return Activated Sludge Piping and Pump Replacement project. DiMarco Construction started work on the $3.3 million NorthStar Chevrolet service center.  Oxford Development selected Rycon Construction as CM for its $3.5 million adaptive re-use of the Achieva Building in the Strip District. Rycon is also the CM for a $2.2 million renovation to medical device manufacturing and office space for Phillips in Murrysville. Dick Building Co. is fitting out the new offices for Pittsburgh Downtown Partnership in the Bank Tower.