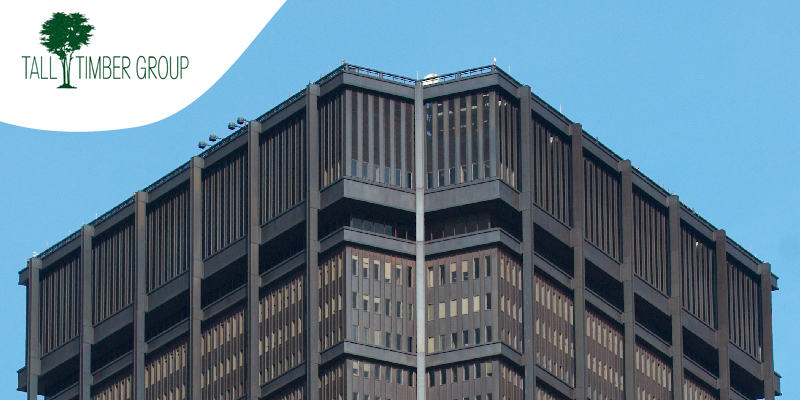 The US Steel Tower, also referred to as the Steel Building and the USX Tower, has been a trademark of the Pittsburgh skyline since its construction was completed in 1970. The building is now also known as the UPMC building, and has a long history of importance to the Pittsburgh people, identity, and economy. Recent renovations have breathed new life into the now 50-year-old building. Office spaces in Pittsburgh have become more decentralized in recent years with tech companies like Google and Uber electing to headquarter outside downtown offices.
With all of this in mind, today we will review the recent work being done on the US Steel building and what impact this might have on the building itself and downtown as a whole.
Details of Steel Tower Renovations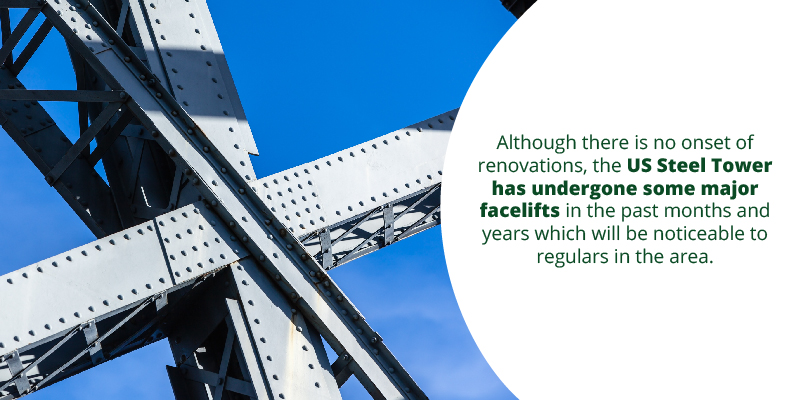 Although there is no onset of renovations, the US Steel Tower has undergone some major facelifts in the past months and years which will be noticeable to regulars in the area. Here are some of the highlights:
The US Steel Tower is now the second-largest LEED Silver Certified office building in the world
LEED stands for Leadership in Energy and Environmental Design. While the US Steel Building may be thought of as a 50-year-old dinosaur, it is likely the most economically and technologically advanced building in downtown Pittsburgh. This is thanks to recent renovations aimed at efficiency and eco-friendliness.
The US Steel Tower renovations modernized the infrastructure
As a continuation of the above, the US Steel Tower has implemented a number of modern changes that improve cost and environmental inefficiencies. Modern renovations/improvements include retrofitting water supplies, sustainable energy practices, offering alternative transportation services, installing eco-friendly LED lights, installing eco-friendly HVAC products, and much more.
US Steel Building has renovated office spaces
As part of UPMC moving in, several large renovations took place to the office amenities of the US Steel Building. These renovations included:
Renovation of seven (7) full floors of office space to be used for UPMC headquarters
Changing cubicle like layouts to more modern designs including high-end, high-tech offices and support areas
Updates to the 60th floor "Center for Connected Medicine (CCM)"
Overall renovations to existing workspaces and offices
These renovations covered a total of 185,000 square feet over 11 months and were all part of the LEED silver certification process.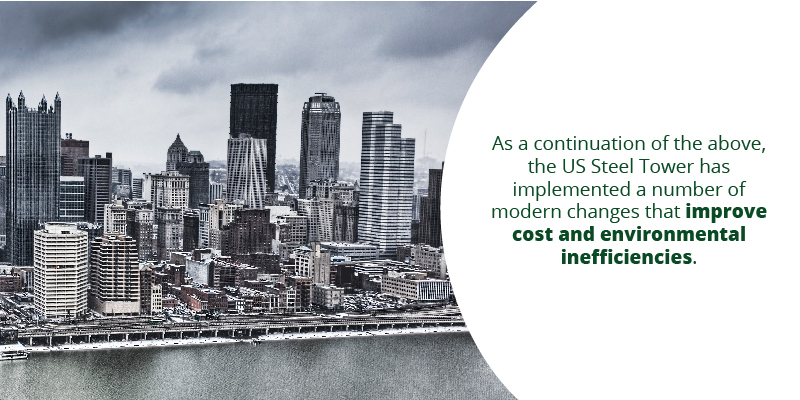 Pittsburgh Steel Building Facts
To understand why renovations of the US Steel Building are so significant to the local Pittsburgh economy and atmosphere, let's look at some quick facts on the building itself.
The US Steel Building stands at approximately 841 feet tall, making it the 66th tallest building in the United States.
Those 841 feet are spread across 64 floors, which are mostly comprised of office space.
The single floor area equals 41,163 square feet, which is only ~2,000 square feet shy of a full acre.
The facilities include a 2,900,000 square foot grass area which is used as a local park for the public.
The US Steel Tower underbelly holds a three-level parking garage which can accommodate 700 cars.
The building holds 11,000 windows, 54 elevators, and boasts a massive lobby area with full amenities
List of Recent US Steel Tower Updates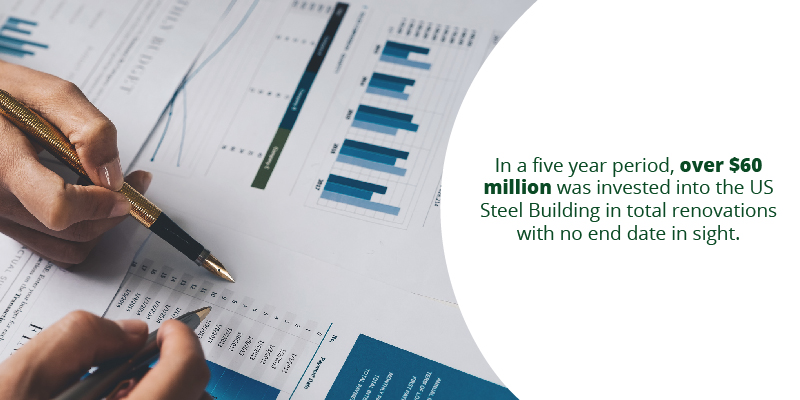 In a five year period, over $60 million was invested into the US Steel Building in total renovations with no end date in sight. These changes include:
Lobby updates including renovations to many interior businesses
The addition of two (2) garage elevators
Newly installed brick and granite in the plaza area
A new fire alarm and security system
A new tenant and building sprinkler system
Renovated restroom facilities
Energy-efficient upgrades (as mentioned above) including closed water loops, HVAC upgrades, energy-efficient light installations, and more
Improved facilities to comply and exceed the American with Disabilities Act (ADA) requirements
New infrastructure including improved electric distribution panels and "base building mechanical improvements"
Going Forward
For those of us native to Pittsburgh, the US Steel Tower is probably the building we think of when we think of the downtown area. While the name and ownership may have changed hands, the importance of this structure remains. Recent renovations have improved both the work lives of the office tenants within and the amenities for the public passing through the building for a bite to eat or just to take in the sights. With major backers including CBRE and Jamestown L.P., it is likely that we will continue to see investments being made into the tallest and most historic Pittsburgh skyscraper.