I had the need to meet up with a customer during the lunch hour last Friday in the Strip District for a brief exchange of materials. The new Terminal Building was a convenient place to meet since it is about halfway between our two offices. The inconvenient part was the usual Strip District stuff: people all over the place, no place to park, impatient drivers on Smallman Street creating their own lanes where none exist. Except that those were the typical inconveniences of the Strip in June 2019, not of the past 15 months. The "business as usual" irritations of a busy streetscape were but another reminder that the economy is bouncing back better and faster than expected. The difference in the marketplace from December 2020 to March 2021 was night and day, and the same can be said of the difference between March and June. Bid boards are full. Backlogs have swelled. Firms are unable to find project managers, project architects, engineers, estimators, etc. Here are a few signposts:
Contracting volume for the first six months should be around $2.4 billion, compared to $1.8 billion during the first half of 2020.
The final report of U.S. GDP growth remained at 6.4% for the first quarter. Economists expect the full year expansion to be even higher.
There were 3 new cases of COVID-19 recorded in Allegheny County June 28. The 7-day average is 13.
Hotel occupancy reached 66% in the U.S. for the week ending June 12, the highest since Nov. 2019.
Apartment rents in Pittsburgh rose 2% last month and were 4.8% higher than in March 2020 before the pandemic hit.
Obviously, any number of factors can still slow the progress being made. Inflation looks to be easing, especially as home construction slows because of higher prices, but construction costs are still high. That could keep projects from starting. Construction labor is running short, which would cool expansion. Infections could rise again, especially if the Delta variant spreads quickly through unvaccinated people with relaxed virus mitigation. Economic activity outside the U.S. is sluggish, which could limit growth opportunities for global U.S. companies (and we have a few of those in Pittsburgh). The odds are, however, most of the potential hurdles for economic growth will not present themselves. The next 60 days should provide a good vision into where the market is heading. If bidding remains active, bid lists will become shorter as the summer ends, as contractors line up work that stretches capacity. It's possible that anxiety left over from 2020 will fuel contractors to keep building backlog beyond their capacity, but few firms are struggling financially and that should mean prudence not risk-taking.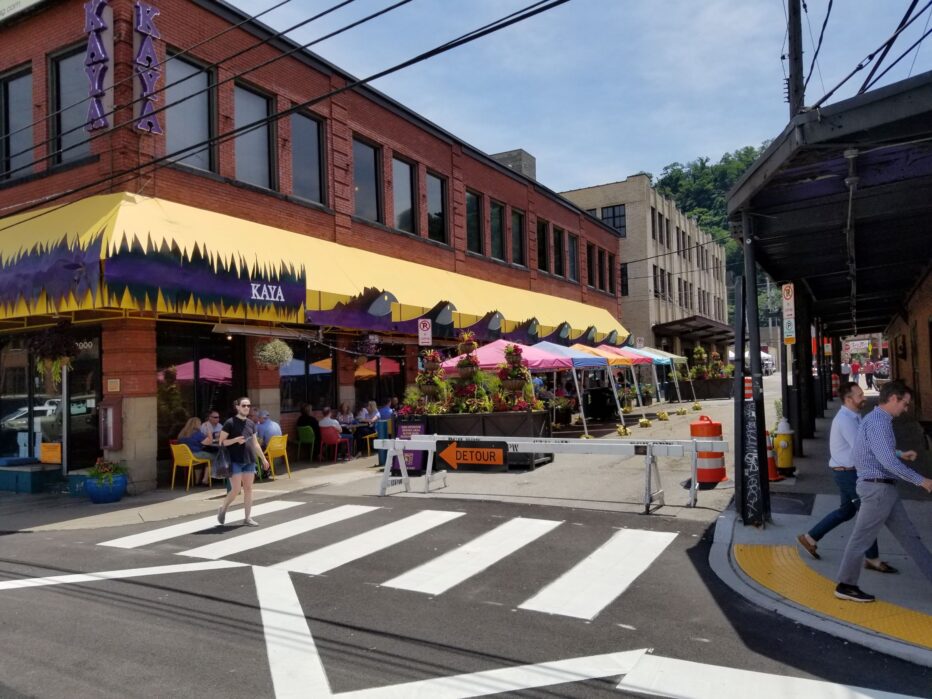 Braddock Library selected Jendoco Construction as contractor for its $13 million renovation. Mascaro Construction was awarded the $124 million steel structure and concrete decks package for the Pittsburgh International Airport's Terminal Modernization. The big building envelope package for the TMP was recently advertised. Peak Construction started work on Scannell Properties' $25 million West Hills Commerce Park in Findlay Township. NextGen Construction held a pre-bid for the $1.3 million Big Tom's Barber Shop in the Hill District. Walter Mucci Construction was awarded the $44.2 million Paynter Elementary School in Baldwin. ICON is bringing its proposed Smithfield Redevelopment, an $8-10 million re-use of 635-641 Smithfield Street into 40 apartments and retail, to the Pittsburgh Downtown Partnership for review. Hampton Township School District advertised its $36 million high school project for bids July 22.
Note: The blog post written earlier this week identified the PIT Terminal Modernization Program package awarded to Mascaro Construction as stee/foundations in error. the foundations package bid on June 30. The three lowest bids were: Mascaro Construction $39,105,000; Burchick Construction $39,585,000; Mosites Construction $43,048,472.