Perhaps construction has not thawed in your corner of Pittsburgh, but the market has noticeably come to life. The $1.4 billion first quarter construction volume was an unexpected upside surprise. Recent project announcements mirror the strengths of the Pittsburgh economy: more industrial space being developed, healthcare construction on the upswing, college work rebounding after better-than-expected enrollment results, big public bids receiving lots of competitive attention.
To the former point, ALCOSAN's board will award contracts totaling $87 million for its East Head Works project, which came in under the estimate by around 20%. PJ Dick will be awarded the general construction piece at $78 million. Last week, Fayette County Commissioners received bids and awarded contracts for its new $39 million county prison. Nello Construction is the general trades contractor.
Pittsburgh's mega projects are coming into the market as well. Packages worth $182 million are out to bid for the airport's $1.39 billion Terminal Modernization Program. The PJ Dick/Mascaro/Massaro partnership is taking curtain wall design assist proposals on the $230 million FNB Financial Center (see rendering below). Turner/Mosites is taking bids on University of Pittsburgh's new $100 million chilled water plant.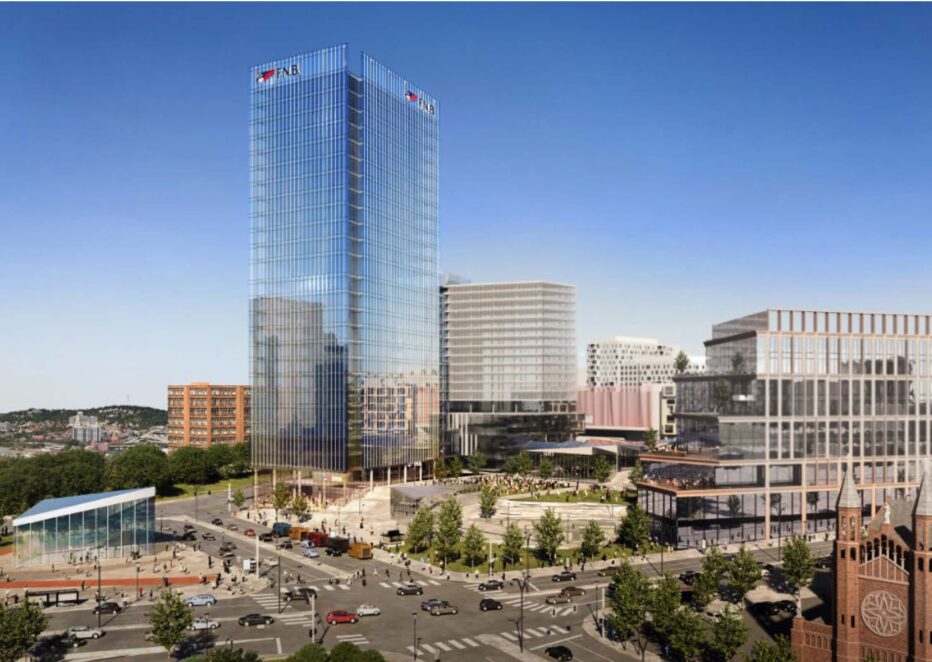 Massaro Corp. will be starting construction on the $60 million Landing at Rivers Casino Hotel in mid-May. Turner Construction was awarded the $23 million renovation of Google's Bakery Square One offices. Penn State selected Rycon Construction as CM at Risk for the $5.8 million renovation of its General Classroom Building at Penn State-Beaver. Rycon was also awarded the $25 million warehouse that Trammell Crow is developing at the Eastland Mall site in North Versailles, reported (but unconfirmed) to be for Amazon. PJ Dick will be renovating 4951 Centre Avenue for Winchester Thurston to create the $6.5 million Joan Clark Davis Center for Interdisciplinary Education.