Good Friday began with good news from the labor market. The monthly Employment Situation Summary was released by the U.S. Census Bureau and it showed that employers had added 916,000 jobs in March, the largest increase since August 2020. The gains in employment were spread across the spectrum, with the largest increases in hospitality (280,000) and construction (110,000). Unemployment decreased to 6.0 percent, with 9.7 people unemployed. That's 4 million more unemployed than at the peak in February 2020. A total of 8.4 million fewer people were working in March 2021 compared to February 2020, meaning that 4.4 million people are no longer in the workforce. Although a portion of those who left the workforce have retired, the largest share of those out of the workforce (most of which are women) are likely to need to be re-employed once the slack in the economy has recovered. The three-month average for job creation suggests that the pace of hiring is accelerating rapidly but would need to continue for 15 months to two years to return to the same level of employment that existed pre-pandemic. Should the March pace continue, that level would be reached at the start of 2022.
Whether the March pace continues is largely a function of how quickly vaccines can be distributed to herd immunity and how well the virus spread can be contained. The current trajectory for vaccination indicates that vaccine supply will outstrip demand in May. The pace of virus spread, however, suggests less optimism. Infections are growing at an alarming rate in northern and midwestern states that have relaxed limitations on public gatherings. In virtually every one of those states there have also been an decline in mask wearing, even though mask requirements have not been removed. The economic progress that has occurred in February and March is likely to be stalled in April or May if the pace of infections remains on the current trajectory. That's not a prediction so much as an observation of similar periods of relaxation and COVID fatigue that occurred in late summer and during the holidays. COVID-19 has proven to be easy to forecast, with very consistent outcomes following increases and decreases in infections. The good news in spring 2021 is that vaccinations should shorten whatever spike occurs and the economic momentum should rebound quickly if a slowdown follows in the coming month or two.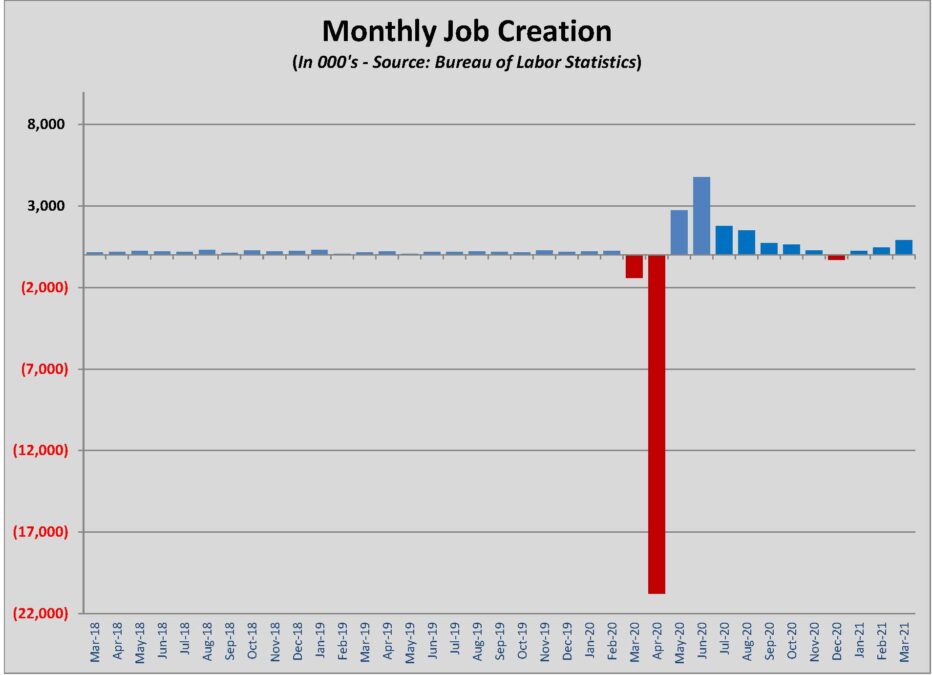 There were other reports on the economy's rebound this week. On April 1, the Institute for Supply Management (ISM) said its index of national factory activity jumped to a reading of 64.7 last month from 60.8 in February. That was the highest level since December 1983. A reading above 50 indicates expansion in manufacturing, which accounts for 11.9% of the U.S. economy. Economists had forecast the index rising to 61.3 in March. The survey's manufacturing employment gauge shot up to its the highest reading since February 2018. The ISM survey also found significantly more firms hiring than not. The outplacement company, Challenger, Gray & Christmas, showed planned layoffs by U.S.-based companies dropped 11% to 30,603 in March, the fewest since July 2018. Through the first quarter planned layoffs plunged 35%, compared the October-December period. At 144,686, job cuts last quarter were the fewest since the fourth quarter of 2019.
Industrial construction in Washington County was boosted by the start of construction of HW70, a 28,200 square foot spec warehouse in Bentleyville, and Aragra's new 50,000 square foot facility in Starpointe Business Park. W. K. Thomas & Associates is building the Aragra facility. Rycon Construction was the low general contract bidder at $11.5 million on the $17.5 million Hillman Library Phase 3 at Pitt on Wednesday. TEDCO was successful on the new $2 million PNC branch on Broadhead Road in Moon Township. Arco/Murray Construction is taking a 35,000 square foot expansion and renovation of Frito-Lay's facility in Thomson Business Park through the entitlement process Cranberry Township. Jendoco Construction started work on the $10 million Distillery on the South Side. Two multi-family projects got underway in March in the city. Elford Construction started work on RDC's $60 million 334-unit Brewer's Block Apartments and PMC Property Group began renovating the Allegheny Building into 177 apartments. Continental Building Co. started construction on the first 78,000 square foot building at Elmhurst Innovations Center.