In January 2020, a Google engineer named Dennis Towne wrote an editorial for Public Source in which he cited Pittsburgh's air pollution as the reason he was leaving the region. Towne also urged other Google co-workers not to move here. He had a number of health complaints that he tied to the poor air quality in Southwestern PA. The editorial was a black eye for Pittsburgh, especially since mandated air quality tests (done in Clairton) continued to show that Allegheny County's air was failing to meet the standards of federal legislation. For a region struggling to attract people and businesses – and to shed its Smoky City misperception – Towne's public departure was another hurdle to overcome.
Earlier this month a study released by Pittsburgh Works Together showed that while Townes health may have suffered while living in Pittsburgh, it wasn't going to get any better if he relocated to many U.S. cities. The study, called Clearing the Air, is an analysis of years of EPA data and environmental studies. Clearing the Air concludes that Pittsburgh's air quality deserves a C+ grade, one that has much room for improvement. The study also found that Pittsburgh's air quality is better than half the cities in the country, including Seattle, WA, San Francisco, CA, and San Jose, CA (home to Google). Based upon the 2019 EPA data, only five of the top 50 cities in the U.S. had lower ozone levels than Pittsburgh. The levels of particulate matter less than 2.5 micrometers (or PM2.5, an EPA measure of pollution) in Pittsburgh are lower than 18 of the top 50 metros. Only eight cities had lower levels of nitrogen dioxide (NO2). On the other hand, only Detroit had worse levels of sulfur dioxide than Pittsburgh. But Pittsburgh ranked near the top in the rate of decline in pollution on almost all pollutants. Clearing the Air also examines the reports done by the region's biggest air quality critics, the American Lung Association and the Breathe Project, and puts the claims those critics make into context.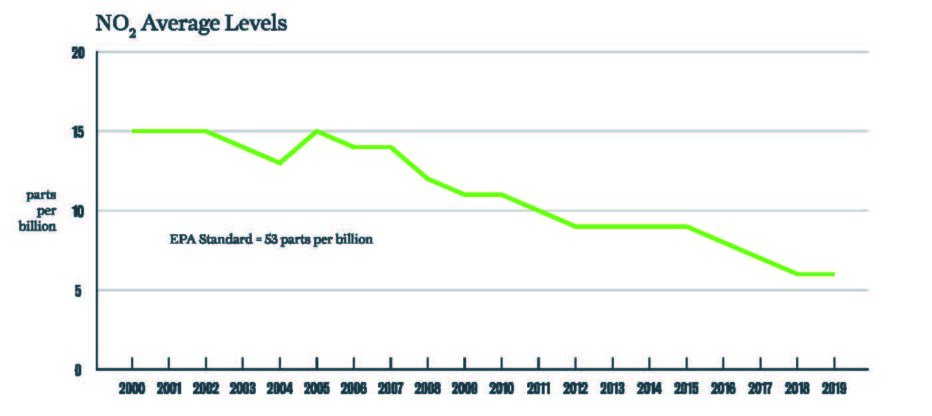 The conclusions drawn by Clearing the Air don't suggest that Pittsburgh's air quality is great, but that it's a C+ not an F. Editorials like that of Dennis Townes perpetuate the Smoky City image and clearly Townes gives Pittsburgh an F. That's his prerogative. No one should live in a place that makes them unhealthy. What Pittsburgh Works Together asserts is that the air quality in Pittsburgh is about what you should expect in a major metropolitan area. Pittsburgh Works describes itself as a non-partisan coalition of labor, industry, and civic leaders. Note that environmental leaders are not part of that coalition. Without the environmental activism the improvements to Pittsburgh's air quality might not be as pronounced. Certainly, the air quality here was improved most dramatically by the shutdown of the region's steel mills and other heavy manufacturing plants. But those shutdowns damaged the region's economy and quality of life for a generation. Those are tough tradeoffs to make. I think that's the point Pittsburgh Works is trying to make. We like to believe here in Pittsburgh that you don't need to trade a healthy environment for a healthy economy. The past 30 years have proven that to some degree; however, 2.5 million people live in metro Pittsburgh, 60% of those in Allegheny County. That many people engaged in economic and recreational activity in one county are going to cause air pollution. And that is a tradeoff that you may have to accept for living in a large, vibrant area, regardless of where in the U.S. that area is located.
I hope Mr. Townes is no longer feeling sick. But, if he returned to the Bay Area, the EPA data says that it's not cleaner air that is improving his health.
Construction is getting off the ground slowly in 2021. The $45 million Fayette County Prison is out to bid. Mistick Construction is taking bids on its $15 million Cal-Bride Apartment/Townhouse development. Waller Corp. was awarded the contract for the $2 million renovation to Carrnegie Library for Blind and Phisically Handicapped. PW Campbell has started work on a $4 million renovation of the former Goodwill Warehouse on the South Side.