Construction and development were on a roll coming into 2020. While the economy was certainly showing signs of age, the pipeline of projects to be built had swollen to the point that it appeared that the Pittsburgh construction market would skate through any downturn that might come in 2021 or 2022. Of course, the downturn that materialized 75 days into the new year dashed that idea and laid waste to the economy. By summer, the hopes for a booming 2020 were gone. The human costs and loss of businesses and jobs have been devastating. From the perspective of construction underway and starting in 2020, however, Pittsburgh's market performed better than feared.
Construction starts recovered stronger than was expected at mid-year. Residential construction was up sharply for single-family homes. New permits for single-family construction rose 12.7 percent year-over-year, to 3,337 new homes. Both single-family detached (2,337 units) and attached homes (1,000 units) saw increases. A steep decline in multi-family starts brought the overall total units started down to 4,138 units, more than 1,000 units off the 2019 pace. Apartment properties faced significant uncertainty throughout 2020 because of the COVID-19 virus and the economic downturn that resulted. Job losses, eviction freezes, and the maddening politics surrounding economic aid created an uncertain environment for landlords and developers. That uncertainty, along with significant municipal and state-level delays in the entitlement process, pushed at least 900 planned units from 2020 construction into 2021.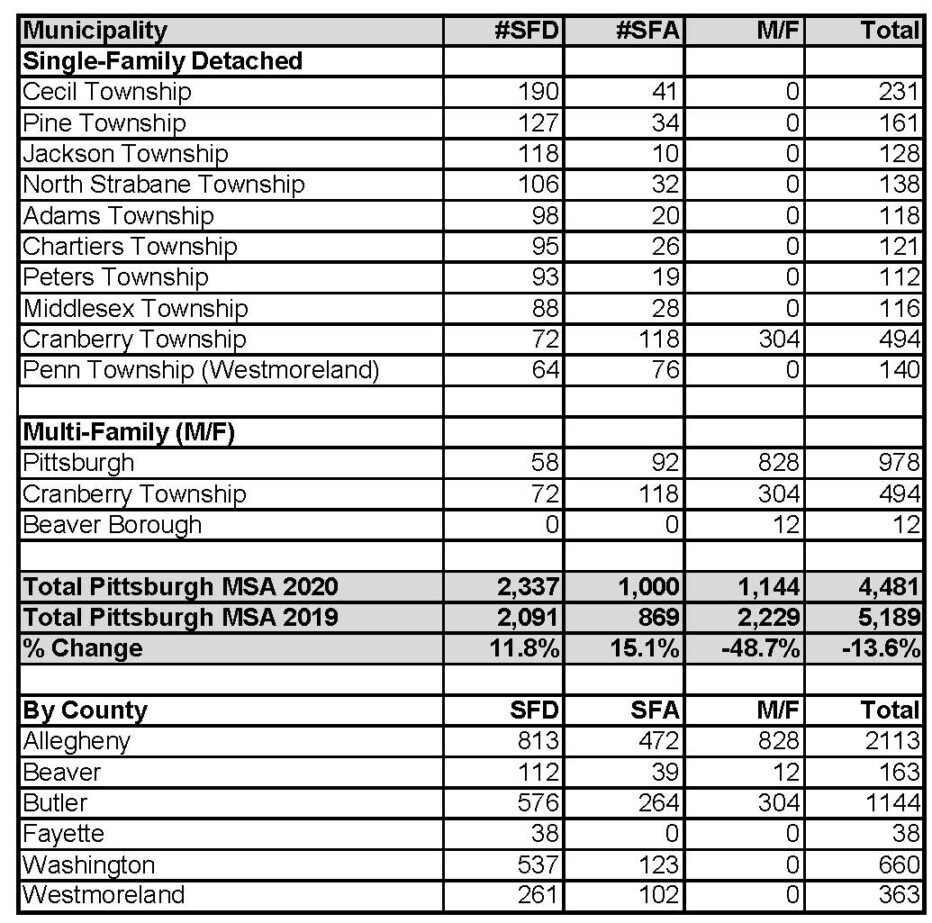 Nonresidential/commercial construction saw sufficient improvement in the last months of 2020 to bring construction volume within shouting distance of $4 billion. The $3.923 billion in construction of commercial and nonresidential building structures was nearly $1 billion less than was forecast at the beginning of 2020; however, the final tally was more than 10 percent higher than mid-year predictions for activity.
The prospect of widespread vaccination by mid-year is giving owners a view to recovery and boosting activity. Architects and engineers are reporting increased billing and bidding. The Biden administration's priorities and slim Congressional majorities increase the likelihood that a major infrastructure package will boost construction spending and hiring by spring. That, in turn, seems to have been an impetus for progress on several of the region's major projects, including the Pittsburgh International Airport modernization, First National Bank's new headquarters in the Lower Hill District, and UPMC Heart and Transplant Hospital. The region's two major hospital systems, UPMC and Allegheny Health Network, have upped construction budgets for 2021 and the following years, which is a good leading indicator for the construction industry.
Highwoods Properties is presenting plans for its new 65,000 square foot East Liberty Centre office building to the Zoniong Hearing Board on Feb. 18. PJ Dick is the construction manager. The presentation can be viewed at the Zoning Hearing Board site. AHN selected Sentinel Construction as the CM for its new $10 million parking garage at the new Wexford hospital site in Pine Township.