Construction resumes on Friday. There will be a number of conditions placed upon construction activities that will be restrictive. Over the next couple of months contractors and owners will test the limits of their collaborative natures as workers incorporate cleaning, distancing, and additional safety clothing into their daily productivity. There will be challenges to the productivity assumptions of all parties to a construction project. Questions remain unanswered about how willing the skilled worker will be to return to work, and how willing the construction owner is going to be to reopen its job site with so many unknown factors.
One of the unknowns about restarting construction is how much demand will return for construction services. Here in Pittsburgh, there were a handful of mega-projects in some form of construction or development that will create immediate demand for many workers, assuming the work resumes. It appears the Shell Franklin project will continue to its finish in 2021. Likewise, the $1.1 billion airport Terminal Modernization Program is expected to resume its early contract bidding this spring. Less certain are the $1.2 billion US Steel Mon Valley Works modernization, the $8 billion PTT cracker, and the timing of the UPMC Transplant and Heart Hospital at Presbyterian Hospital in Oakland. More uncertain, of course, is the demand from the bread-and-butter construction economy.
As states reopen for business gradually, the U.S. economy will begin shaking off the effects of around six weeks of shutdown. One effect of the timing of the sheltering at home is the lack of data measuring its impact. With more than 26 million first-time claims for unemployment filed during the period, it's not hard to assume that consumers will have spent much less than normal. Consumer spending declines varied depending upon the type of expense. Clothing sales fell 50%. Hotel and airline receipts plummeted by more than 90%. Grocery sales jumped by 15%. All of these comparisons are March-to-February. We can be certain that a full month of sheltering in April will depress numbers again in April. Manufacturing also declined. Capacity utilization dropped over 7 points to 72.7% currently. Six weeks into the recession conditions, some data is emerging to give a view to the recovery that will follow.
Tuesday morning, CBRE's senior economic advisor, Spencer Levy, addressed an audience of Pittsburgh real estate executives about the commercial real estate market recovery. In the presentation, called "Reassessing Pittsburgh's Real Estate and Economic Outlook," Levy expressed optimism about the macro economy and Pittsburgh's economy. Levy pointed to the recovery in Hong Kong and China (to an extent) as indicators that demand for goods and services will return. His belief in a "V-shaped" recovery may be overly optimistic for the U.S. economy, but he made a case for Pittsburgh's resilience to the downturn. Levy pointed out that cities with strong technology sectors, like San Francisco, Boston and Austin, saw stronger economic performance after the financial crisis and the 9/11 Dotcom bubble recessions. He expressed caution about the depressed oil/gas sector and the potential decline in international students, which have helped drive the strong universities in Pittsburgh.
More globally, Levy predicted that the "next 45 days are the most important for commercial real estate in U.S. history." The slowdown in leasing and acquisitions reflects the great uncertainty about future occupancy and rents. Levy noted that CBRE-managed properties had fared better than expected thus far. Its multi-family and office rent collections were running at 90% of normal, while industrial properties were at 70%. Retail and hotels rents were between 20% and 40%. In his opinion, the next six weeks would help U.S. commercial real estate find a bottom and pricing certainty. From that point Levy predicted that multi-family and industrial properties would recover in 2021; office buildings would recover in 2022; and retail and hotels would lag into a third year of recovery.
Another global indicator of future construction, the AIA's Architectural Billings Index (ABI), reflected the sudden shock to the economy that came in mid-March, with the billings index falling further than at any time in its history to 33.3%. The ABI is a binary index that reflects whether a firm's billings increased or decreased from the previous month. The reading in March indicates that 2/3 of all firms saw declines in billings. That matches the responses at the depths of the Great Recession in Jan-Feb 2009.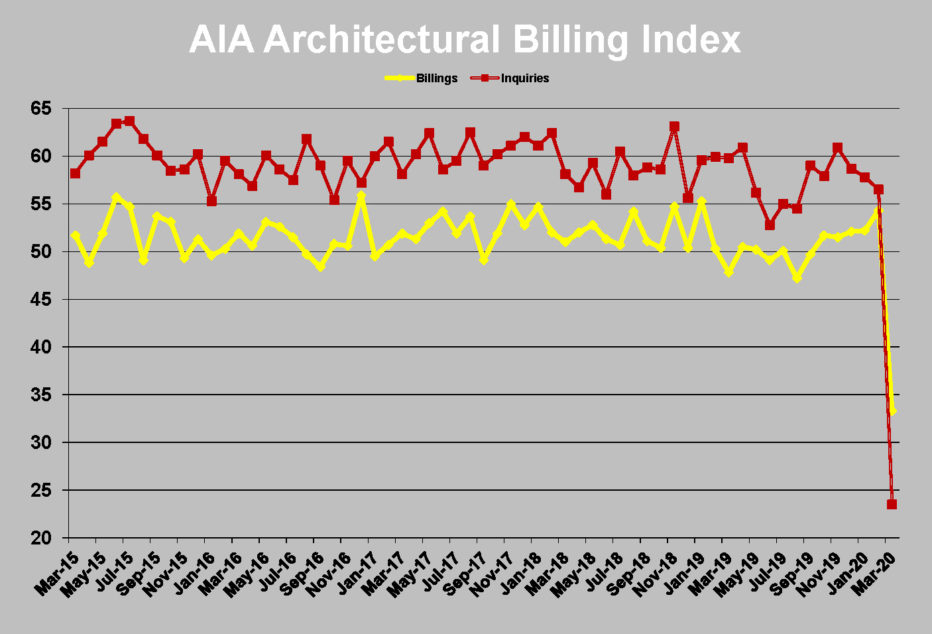 Some of the major commercial real estate projects in Pittsburgh are continuing to advance, perhaps validating Levy's point about the tech and biomedical sectors. Wexford Science & Technology took proposals from Turner and Mascaro on its 180,000 square foot research building on Forbes Avenue. A few blocks west, PJ Dick is bidding packages on Walnut Capital's $100 million Innovation Research Tower. Spear Street Capital took proposals on the $50 million conversion of the former Sears Outlet at 51st Street. Aurora took proposals on tenant improvements for 140,000 square feet at 1600 Smallman Street.
Clarification: The April 23 post incorrectly listed AIMS Construction as the low bidder on a $4.5 million renovation to Pitt's Cathedral of Learning ground floor, which was put on hold. AIMS was low on one alternative for the $1.5 million Architectural Film Studies Lab at the Cathedral of Learning. Dick Building Co. was the low bidder on the other alternative proposal.