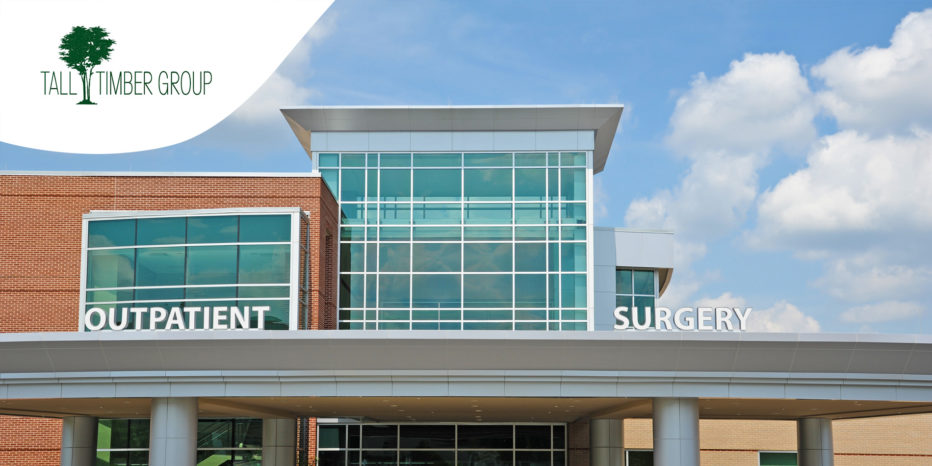 Allegheny Health Network, much like their latest business partners UPMC, have kept busy in recent years with commercial real estate purchases and developments. One of these development projects is a new emergency department in the Jefferson Hospital in Jefferson HIlls, PA. This project is just one of multiple renovations and new construction projects currently underway under the Allegheny Health Network Banner. Today, we will review the details of the AHN Jefferson Hospital project, discuss some other recent AHN commercial real estate deals, and end with how these projects might impact CRE in our local Pittsburgh region.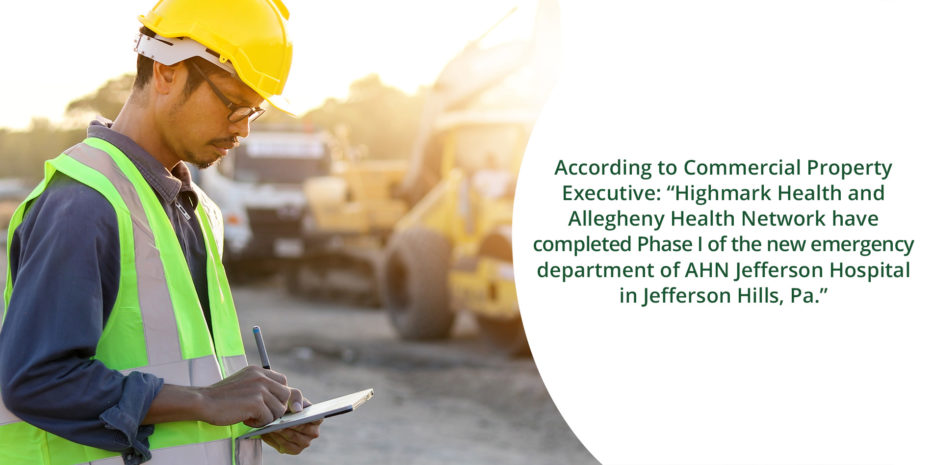 Details on the Jefferson Hospital Expansion Project
According to Commercial Property Executive: "Highmark Health and Allegheny Health Network have completed Phase I of the new emergency department of AHN Jefferson Hospital in Jefferson Hills, Pa. The project cost $21 million and expanded the existing facility by 34,000 square feet. During the renovations, the hospital's helipad was also relocated to the roof of the structure. Phase II, which is expected to complete in May 2020, will consist of modernizing the current emergency department space."
The AHN Jefferson Hospital is home to nearly 400 doctors covering over 40 areas of practice. The new emergency department will consist of:
44 private treatment and observation rooms
7 central nursing pods
A more modern and spacious triage area focused on privacy
Advance CT and x-ray capabilities
Trauma rooms
Rooms specially designed for behavior health assessments and treatments
The AHN Jefferson hospital currently cares for over 50,000 patients in the Lower Mon Valley and South Hills areas. This latest round of renovations comes on the heels of a $17.5 million investment into a new surgical suite.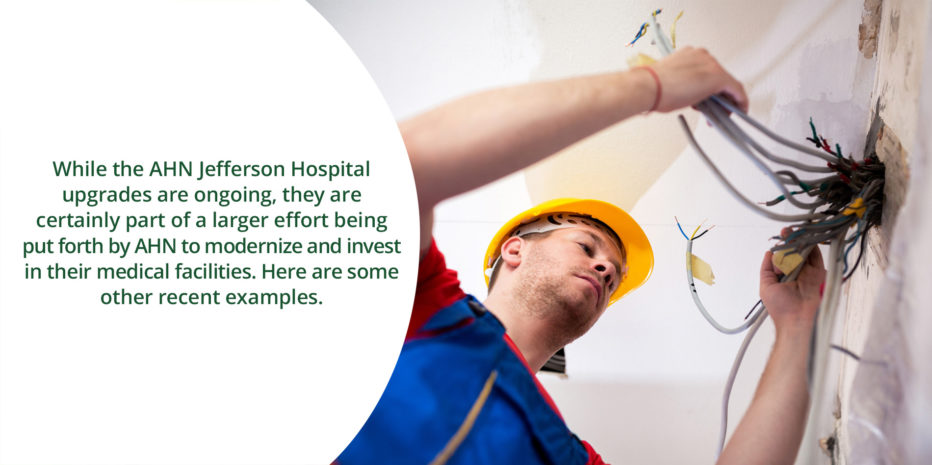 Recent Allegheny Health Network CRE Investments
While the AHN Jefferson Hospital upgrades are ongoing, they are certainly part of a larger effort being put forth by AHN to modernize and invest in their medical facilities. Here are some other recent examples.
AHN Constructing Harmar Hospital
AHN broke ground on a new Harmer Hospital location on October 5, 2018. The site is still under construction, but is expected to open this fall. Construction on the site was delayed for six months, but kicked back into full gear in July of 2019. The new Harmar Hospital will be located at the intersection of Freeport Road and Guys Run Road, near Zone 28 (formerly Fun Fest). The site will operate as an emergency hospital with additional services including imaging, inpatient care, and a multitude of lab tests.
AHN Construction on New Wexford Hospital
As of October 24, 2019, the final beam was put into place for the brand new AHN Wexford Hospital. The 160-bed hospital is expected to open in 2021. According to Cynthia Hundorfean, AHN CEO and President, "When Wexford Hospital opens its doors, it will be the most technologically advanced and patient-centric acute care hospital in western Pennsylvania." The hospital is being built in response to the rapid growth in Pine Township and the surrounding areas.
AHN Waterworks Outpatient Center
On a smaller scale, Allegheny Health Network has also committed time and resources into developing outpatient centers for local residents. The most recent of these investments went into the AHN Waterworks Outpatient Center. The center employees ~35 workers, and includes:
Gynecologist/obstetrician appointments with full ultrasound capabilities
Orthopedic care provided by Allegheny Orthopedic Associates
Primary care for adults and children
Cardiology care including echograms
Diagnostics services including blood tests, MRI, CT scans, 3-D mammography, and more
Express care service for non-emergency healthcare with no appointment necessary

How Medical Construction Impacts Western PA Commercial Real Estate
Allegheny Health Network has been investing heavily into the local community, but how does that impact the local Pittsburgh commercial real estate market? While the full breadth of these major CRE investments is far reaching, here are a few primary takeaways:
Investment in local healthcare drives the local economy. It is well documented that greater healthcare investments lead to greater economic health. This has been shown to be true on both large and small scales. As AHN and UPMC continue to invest and improve our local healthcare resources, the population gets healthier, jobs are created, and the overall quality of life improves. This creates a stronger economy which in turn has a positive impact on commercial real estate in the area.
Greater healthcare services serve our aging population. Pennsylvania, like much of the US, has an aging population. As a greater percentage of our local population is 65 plus, the need for healthcare services increases. AHN investing in hospitals and outpatient centers allows the aging population to remain in their current areas. This increases the demand for housing, retail locations, and commercial real estate overall.
AHN is choosing to renovate defunct retail locations. On a more specific note, AHN and other local healthcare providers have been more willing to renovate/repurpose spaces in dead malls and other retail locations. This could be great news for CRE investors sitting on vacant retail spaces. At the end of the day, any CRE investments from our regional healthcare networks should be a shot in the arm to the commercial real estate market overall.