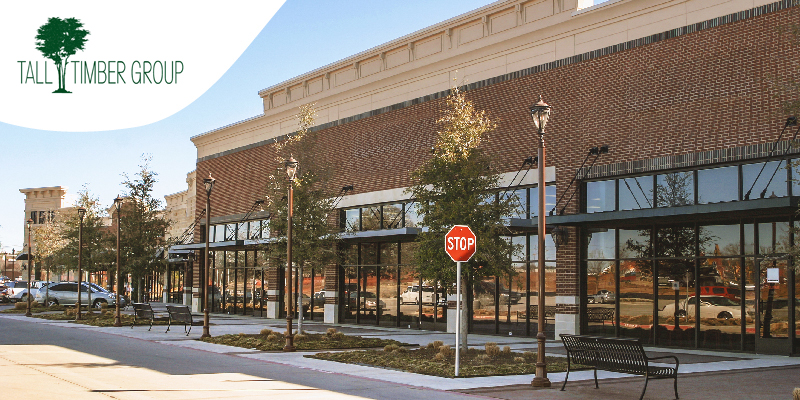 Recently, we discussed what commercial real estate investors were doing to solve the problem of America's dead malls. As part of that article, one of the solutions which have effectively brought life back to struggling retail real estate is to invest in renovations or other related construction projects. The Beaver Valley Mall in Beaver County, PA has recently broken ground on a new construction effort. If successful, this revitalization could be a blueprint for other dying malls in the Western PA region.
Today, we will review some highlights of the Beaver Valley Mall, discuss the details of the newest construction project, and how this project might impact the local commercial real estate landscape.
CBRE Heads New Strip Mall Construction at the Beaver Valley Mall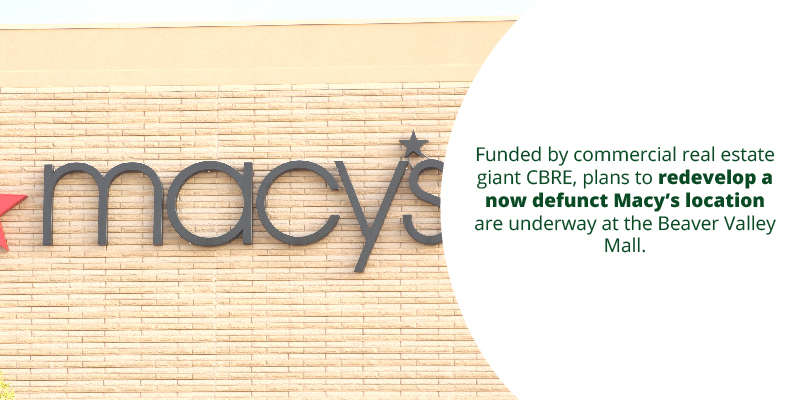 Funded by commercial real estate giant CBRE, plans to redevelop a now-defunct Macy's location are underway at the Beaver Valley Mall. The former site of a Macy's megastore will be turned into a mini strip mall. This is part of a plan to redevelop large retail locations that were struggling in the region. This new mini strip mall is to be named The Shops at Beaver Valley Mall. JJO Construction started work on the first building in the fall of 2019.
As reported by timesonline.com: "The Shops at Beaver Valley Mall, which will include about 50,000 square feet of retail, office and service space with mall access available in various sizes. According to a CBRE press release, there will be nearly 27,000 square feet of retail space facing Brodhead Road. The Shops at Beaver Valley Mall will join other anchor tenants, such as JCPenney, Dick's Sporting Goods, U-Haul, Rural King, Planet Fitness and Boscov's."
This is not the first renovation and/or construction effort that has recently taken place at the Beaver Valley Mall. Recent construction updates for restaurants and entertainment venues including escape rooms have been part of the shift away from large retail locations and towards smaller, more profitable business partners.
Beaver Valley Mall History and Current Climate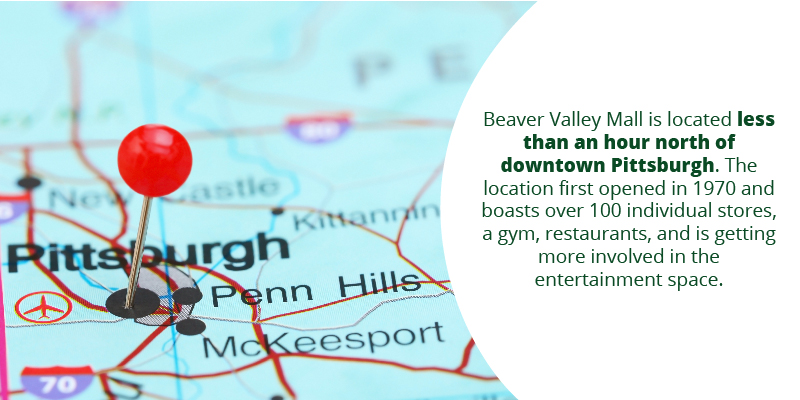 Beaver Valley Mall is located less than an hour north of downtown Pittsburgh. The location first opened in 1970 and boasts over 100 individual stores, a gym, restaurants, and is getting more involved in the entertainment space. Beaver Valley Mall is also dedicated to offering free programs and events for local community members and their families.
As with many American malls, Beaver Valley Mall enjoyed financial success through partnership with anchor tenants including JCPenney, Gimbels, The Joseph Horne Company, and Sears. The location of this latest construction, a now-empty Macy's, is just one example of these retail giants struggling in the 21st century. Sears and Macy's locations closed in 2016 and 2017 respectively.
Despite all of the hyperbole surrounding the detail of traditional retail, many malls remain successful. Recent history has shown that successful malls have been willing to make updates to both their facilities and their business model. With the recent backing of CBRE, Beaver Valley Mall is looking towards the future.
Following the Beaver Valley Mall Template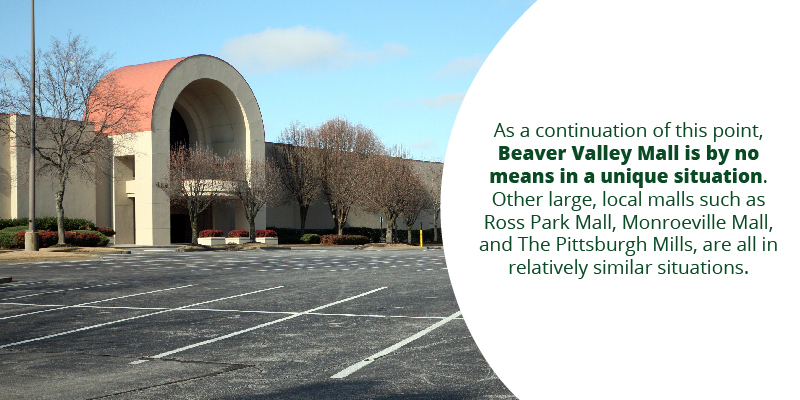 As a continuation of this point, Beaver Valley Mall is by no means in a unique situation. Other large, local malls such as Ross Park Mall, Monroeville Mall, and The Pittsburgh Mills, are all in relatively similar situations. In particular, the Galleria at the Pittsburgh Mills has an uncertain future. Despite promises by Mason Asset Management that renovations were high on the priority list, no action has yet been taken.
The four most recent tenants of the Pittsburgh Mills: Allegheny Health Network Citizens' School of Nursing, Focus on the Arts, Chicken Connection, and Himalayan Salts Co, tell the story of a shift away from large retailers and towards alternative mall tenants. Many Western PA malls are considering what these new tenants might require from an infrastructure perspective.
Beaver Valley Mall is amongst the local commercial real estate leaders investing significant capital into their retail facilities. With backing from a well-financed organization such as CBRE and a commitment to investing in the space, local commercial real estate professionals and residents will be watching how this new construction effort pays dividends.
Going Forward
As all commercial real estate professionals know, there is not much room for waiting in this industry. As the retail space continues to evolve, so too will commercial real estate investors' mindsets about malls and other large spaces. The process of revitalizing America's dead malls is already well underway. In the local Western PA area, it remains to be seen which malls will be able to successfully adapt to a changing retail reality. The truth likely lies somewhere in between exaggerated reports of the demise of traditional retail and the rosy reports of modern retail evolutions.
The mall industry will need to adapt to changing consumer behaviors. Beaver Valley Mall is using a now-defunct mega-retail location as an opportunity to develop a location for multiple, smaller, more profitable tenants. Whether this investment will pay dividends remains to be seen. In either case, the success or failure of mall renovation projects will inform future decisions in our area.