Uber is a now well-known ride sharing service which has 100's of millions of active users. Uber has been a major disrupter of the taxi and car service industries by offering a unique (at the time) business model of matching passengers to drivers with independently owned vehicles. Today, those 100's of millions of active users have adopted ride sharing into their daily lives for commuting, when traveling, or even just getting home responsibly from a night on the town. In the Pittsburgh area, Uber is also known as a pioneer in autonomous vehicles and has established a technological headquarters where they are testing their new self-driving cars and trucks.
As part of this testing process, Uber recently made another large commercial real estate purchase west of Pittsburgh. Today we will review the details of that purchase, give some background on Uber, and explore how Uber's presence in Pittsburgh might impact the local CRE industry.
Details on Uber's Recent CRE Purchase near Pittsburgh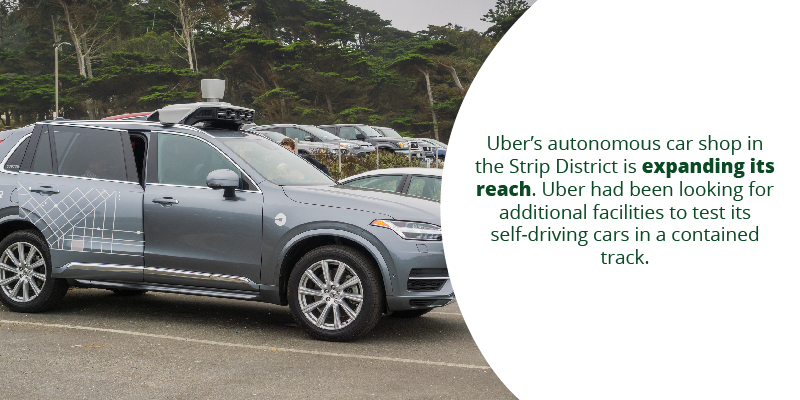 Uber's autonomous car shop in the Strip District is expanding its reach. Uber had been looking for additional facilities to test its self-driving vehicles. In late 2019, it found a new home by purchasing a nearly 600 acre lot in Findlay Township, PA. The land was sold for approximately $9.5 million by Imperial Land Corporation. The new facility will replace the old Uber testing ground at Hazelwood Green along the Monongahela River. Uber's current lease at the Hazelwood Green expires in 2023. However, the pace at which the Findlay facility is advancing makes it likely that some portion will open as soon as 2021.
As part of the deal, Uber will be testing its autonomous vehicles in a newly constructed facility. The land was vacant at the time of purchase. Uber has not yet publicly announced the details of their plans for the location, but they have announced that their autonomous car facility in the Strip District will remain operational. 
Uber's Pittsburgh Presence has Grown in Recent Years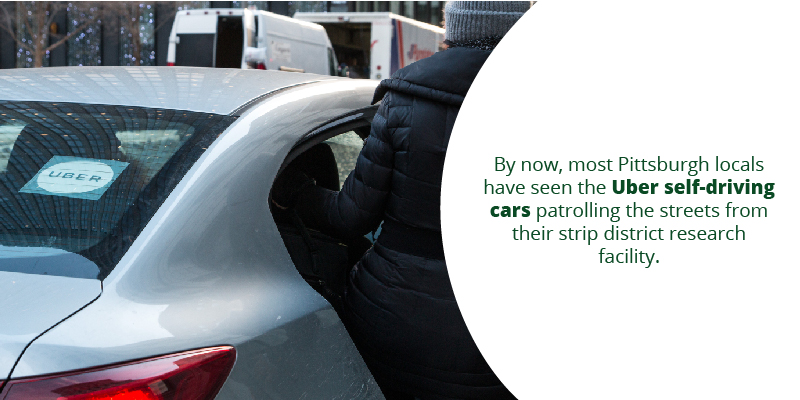 By now, most Pittsburgh locals have seen the Uber self-driving cars patrolling the streets from their strip district research facility. Yet the testing of these experimental vehicles is only a small part of their Pittsburgh footprint. Uber has made it no secret that they intend to grow their Pittsburgh presence around their autonomous testing facilities. The latest land purchase is part of Uber's plan to add more facilities, employees, and testing to the area. Uber is based in San Francisco, and has found Pittsburgh to be a desirable mix of affordability and access to highly skilled and educated employees.
According to Mobility21.cmu.edu: "The [Findlay Township] facility is expected to employ as many as 200 people and come with an observation (sic) tower and other developments to create a 24-hour simulated environment in which to test Uber's autonomous vehicle technology that brought it to Pittsburgh in 2015." The decision to purchase land and build a test track rather than leasing one is significant.
From a commercial real estate perspective, Uber's expanded investment in the local economy will likely lead to related projects. As for the Findlay Township facility, much more than a test track is planned. While Uber has made no announcements, plans are being reviewed for entitlement and permit purposes. The first phase includes a 140,000 square foot testing facility with entrance doors that are tall enough to accomodate trucks. The site plan shows more buildings in the future, in excess of one million square feet under roof. 
Uber by the Numbers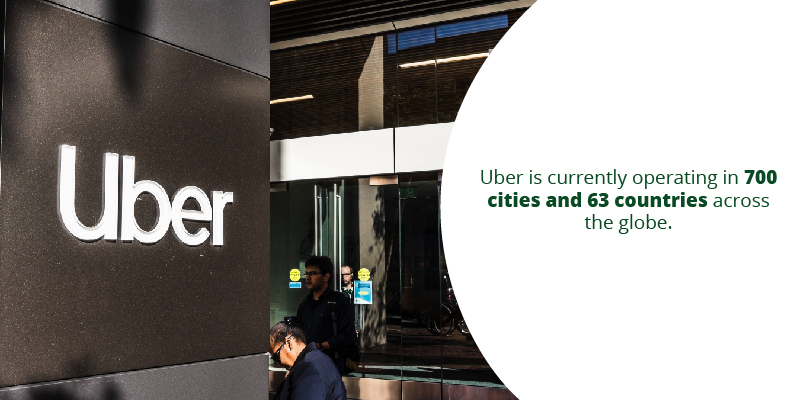 To understand how Uber might impact Pittsburgh in the near and distant future, it can be helpful to understand a bit more about Uber's story and their impact by the numbers. Here are some highlights which give recent events some context:
Uber was founded in 2009, and has since become the most highly valued private startup company in the world.

Recent estimates place the valuation of Uber at around

$90 billion

.

Uber is currently operating in 700 cities and 63 countries across the globe.

While Uber's employee numbers range from 19,000 to 27,000 thousand, the total number of Uber drivers likely

exceeds 4 million

. 

Uber generates approximately $12 billion in gross bookings per quarter.

Uber has completed

over 5 billion trips

since its inception.

While these numbers are declining as the market matures, Uber has enjoyed a 70-75% market share of ride sharing services for several years.
These numbers illustrate the impact of Uber as a market disruptor and an economic force. Uber's corporate decision to invest in the Pittsburgh area has already had a material impact on local economy and CRE landscape. While a 600 acre construction project might not be the biggest in the city this year, the real question becomes what will come next for the ride sharing service.
Going Forward
Uber's preeminence in autonomous vehicles was short-lived. Shortly after establishing Pittsburgh as its global AV headquarters, Uber was joined in the region by Argo AI, Aurora, and Aptiv, along with the testing that Carnegie Mellon does on its own. As an employer and consumer of commercial real estate space, Uber has grown by leaps and bounds. Its competitors have expanded their presence as well. Autonomous vehicles appear to be an inevitability, maybe even morphing into fling vehicles or some other form of mobility we can't as yet imagine. The beachhead that Uber has established by building a major testing facility makes it that much more likely that whatever the future of AV brings, Pittsburgh will be at the heart of it.