During the debate over the American Relief Plan, fiscal conservatives raised the worry that adding so much stimulus into the economy was a risk for overheating the economy and triggering inflation. Coming on the heels of a year in which gross domestic product (GDP) fell 3.5% (and almost 10 million people remain unemployed), a little overheating is probably not the most sellable worry. At the same time, there are signs that unusual inflation levels could be on the horizon. There isn't much question in my mind that the relief included in the $1.9 trillion package was needed to get the U.S. economy to the other side of the pandemic later this spring or early summer, but there are positive indicators already that the economy is bouncing back. Government stimulus, whether in the form of direct payments or monetary policies like quantitative easing, are meant to be oxygen for the economic fire. If the aid ends up being gasoline instead, particularly in an environment that continues to have supply restraints, demand for goods and services can get so far ahead that raising prices is unavoidable. That's a real concern and evidence of such overheating is widespread in the construction industry.
As Congress was debating the ARP, the Bureau of Labor Statistics released its inflation report for February. You can view a helpful table of key materials done by the AGC here. The headlines weren't shocking but the overall producer price index (PPI) jumped 2.8% year-over-year. PPI growth for most construction-related indexes was relatively tame (the PPI for nonresidential buildings was at 1.2%) but there are smatterings of runaway inflation in several key materials. Industrial metals, especially steel, have seen big increases, as has diesel fuel. We're talking about jumps of 20% to 45% year-over-year. Looking at the underlying causes of the inflation should calm your nerves. Manufacturing capacity was cut back last year and manufacturers let inventories run down. As production has been heating up in recent months, capacity utilization has climbed back to pre-pandemic levels for many basic industries. When the economic recovery kicks in higher gear in a few months, capacity would be swamped but manufacturers have already begun reopening plants. By the third quarter's end, there is likely to be an excess capacity again in steel, aluminum, and fuel.
That's good news, unless you have to price and procure a major project right now. The key worry about inflation at the moment is that out-of-whack supply and demand could produce pricing that breaks the budget on projects trying to get out of the starting gate this spring. Some of the projects won't be able to get out of the way of the short-term spikes. For owners looking to get out of the ground in later 2021, don't be hasty about the springtime budgets. There is no guarantee that prices will moderate by fall but it's more likely that today's prices will be higher than after mid-year.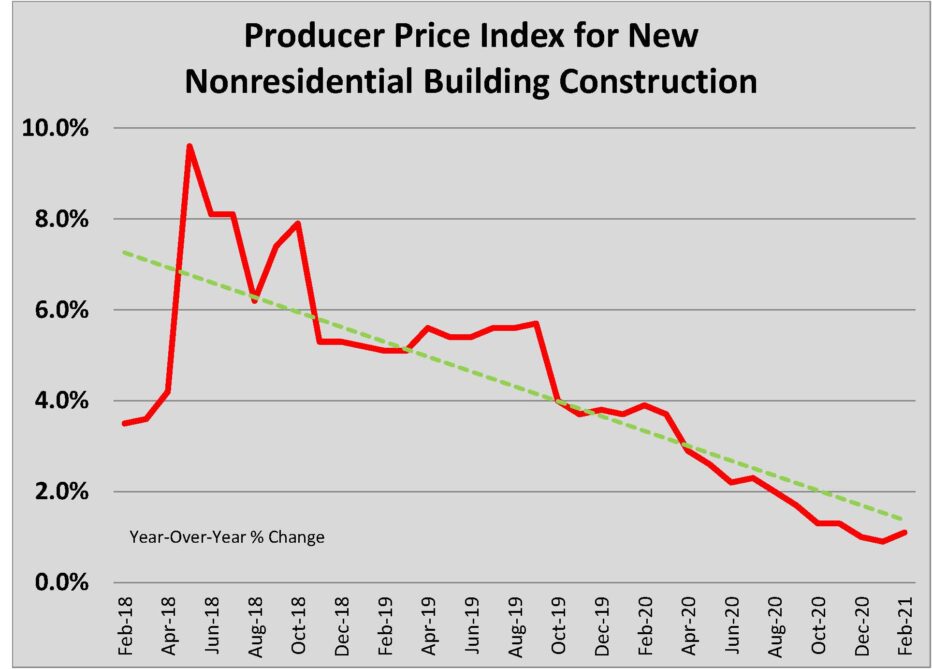 The outlook for long-term inflation hasn't much changed since last year. Fed Chair Jerome Powell tried very hard to express the central bank's caution about raising rates too soon on Wednesday. He made a very good point about growth, which was that if interest rates are hiked earlier than expected because economic growth (especially job growth) is stronger than expected, that will be a good thing. Fears of inflation of the kind seen in the 1970s are otherwise unfounded. There are big differences in how the global economy works in the 2020s, most notably that the economy is global. Spikes in demand or supply shortages can be met by corporations across the world. That wasn't the case in 1975. Materials that have tended to drive inflation spikes – industrial metals, oil, and gas – are in long-term secular oversupply cycles. Productivity is likewise less likely to balloon today. Fifty years of technology advances have leveled out the productivity gains that have pushed wages in the past. Inflation is a risk to the economy but, at the moment, a far lesser risk than the public health crisis.
Pittsburgh's construction industry is rapidly heating up. The industrial market continues to expand. Miller-Valentine Group has started construction on the $15 million warehouse at Westport Woods for NorthPoint Development. Stefanik Properties LLC has started site work on the 150,000 Stefanik Industrial Park in Center Township, Beaver County. The $33 million Gateway Middle School project is out to bid. Elizabeth Township Municipal Authority awarded Mele & Mele & Sons $19.8 million in contracts for new pump stations. TBI Contracting has started work on the new $2.6 million Frontier Railroad HQ in Charleroi. Massaro Corp. was selected to renovate the 20th floor at Highmark's headquarters. Mosites Construction will be the contractor for the $5 million renovation of The Depot in Tarentum. UPMC is taking proposals from Mascaro, Massaro, PJ Dick, Rycon, Turner, and Whiting-Turner on the $25 million Children's Hospital Heart Vascular Institute. A. W. McCay is renovating Fox Chapel Plaza for the $2.5 million Goldfish Swim Club. Yarborough Development was awarded the $1.6 million Norwin High School Aquatic Facilities renovation.