There is no question that the state of the economy is a mixed bag as 2020 winds down. This week will see the release of a number of key economic metrics, including the monthly jobs report on Friday morning. Thursday morning, the data on unemployment claims has good news, relatively speaking. During the week of Nov. 28, there were 712,000 new claims for unemployment insurance. That's terribly high compared to anything like normal but it's a 75,000 claim decline from the previous week, and a reversal of the recent trend of accelerating claims. There were 350,000 fewer persons receiving any form of unemployment insurance, another positive step. For perspective, however, it's worth noting that the 20.16 million people on unemployment last week compares to 1.5 million one year earlier. Clearly lots of ground to make up.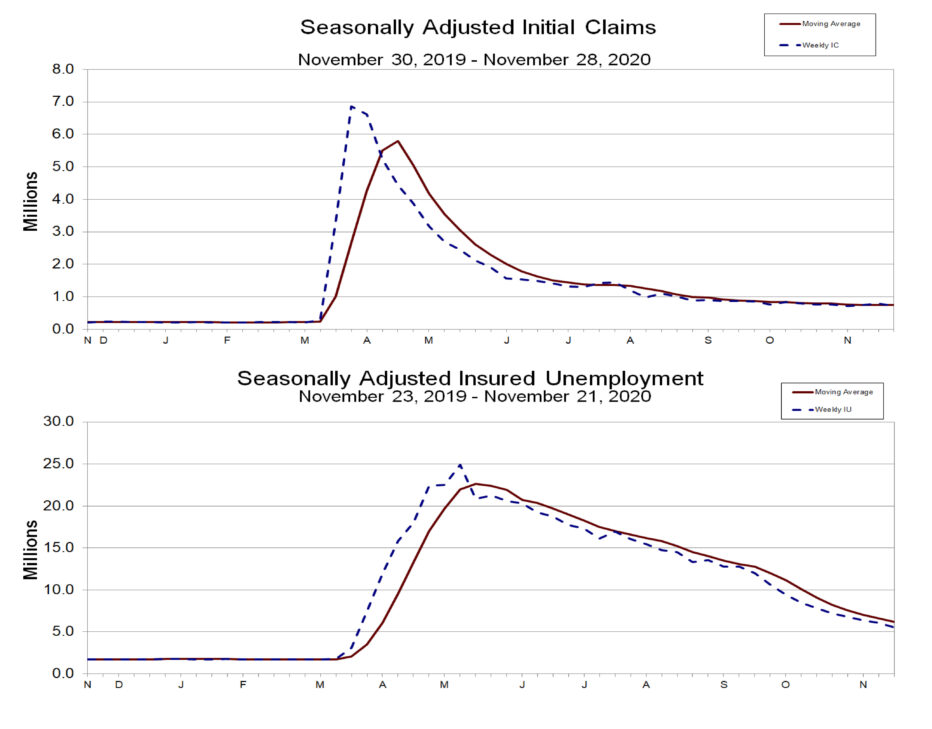 The Institute for Supply Management (ISM) released two important purchasing manager indexes (PMI) this week. The November PMI fell slightly to 58 for manufacturing companies but remained well above the slow growth line. New orders index jumped to 65.1%, a very good forward-looking sign. The ISM Non-Manufacturing Services Index was also solid at 55.9%, down slightly from October but above 50 for the sixth consecutive month. Wednesday's ADP Payrolls report was not as cheery. Private non-farm employers added 307,000 jobs in November. That's a continuation of the slowdown in hiring since late summer. Economists expected a slightly higher figure but the data fits in with the overall trend that appears will be unchanged until evidence that the vaccine rollout is loosening up activity.
One other area of concern with respect to new hiring is the Federal Reserve Bank's most recent Beige Book responses from employers regarding hiring. Businesses were overwhelmingly reporting improved conditions but a far smaller share were expecting to hire back to pre-pandemic levels once the COVID-19 threat recedes. The most common reply was that businesses have learned to do more with fewer people. Should that sentiment prevail once activity accelerates, the recovery will be slower.
Regional construction activity has picked up, although much of the progress is in anticipation of the pandemic receding in the spring, which means that construction is not likely to return to higher levels until the second quarter. ALCOSAN released its $110 million East Head Works project for bid, due Feb. 17. Permits were issued to Sota Construction for the $5 million Hazelwood Brewing Building renovation and to Mosites Construction for the $2.5 million Brashear Community Center renovation. Oxide Development/Schiff Capital presented its 114-unit, $20 million 32nd & Penn Apartments to the Pittsburgh Planning Commission. Rycon Construction is the CM. The planning commission also reviewed plans for the $2-3 million conversion of the Triangle Building into residential, which Franjo Construction will build. A. Martini & Co. was selected for the $6 million next phase of the Hunter Building restoration in Wilkinsburg. E. E. Austin was the successful bidder on PSU Behrend's $5.5 million Federal House addition in Erie. Penn State also selected ZGF Architects for its $146 million new Physics Building and Osmond Building Renovation. Mele & Mele & Sons announced it was building a new 38,000 square foot headquarters and shop at the RIDC Duquesne site. ATI announced $85 million in cpaital improvements to its Vandergrift stainless mill.