Earlier this week, JLL issued its Skyline Report, which got a bit of media play, particularly in the doom-and-gloom Pittsburgh Business Times. JLL's report highlighted concerns about the surge in sublease space and the media emphasized JLL's opinions about the impact of tech work-from-home on future office demand and the uncertain future of office because of WFH. These concerns are legitimate. If WFH becomes another trend that leads to downsizing of office usage by even 10%, it will add five million-plus square feet to the vacant inventory. That stuff makes for good headlines and click bait. The problem is that we have no idea when we're getting out of this pandemic, let alone what things will look like on the other side. The better course is to look at the data.
JLL's headline data point, a vacancy rate near 20%, is not comforting either, but it's only marginally higher than 90 days earlier. Newmark Knight Frank released its thrid quarter reports today, and the data is similar. According to NKF, the overall vacancy rate moved from 17.9% in July to 18.5% in October. The more troubling trend is the year-over-year decline of 2.2 points. New construction deliveries of a million square feet were the main reason for the jump, with lower occupancy having a small impact. Rents held steady, rising three cents to $24.10/square foot. Rent is a lagging indicator, however, and the likelihood is strong that rents will fall as leases renew during the next 12 months. One interesting view of the NKF data is the stability of the market overall. Occupancy is above 80% for almost all submarkets. The east market is an outlier to the downside, with vacancies at 26.5%, and Oakland/East End vacancy is the outlier to the upside, at 11.8%. These two are the smallest submarkets by far, at just over three million square feet each. The remaining suburban and urban markets are between 16% and 18% +/-.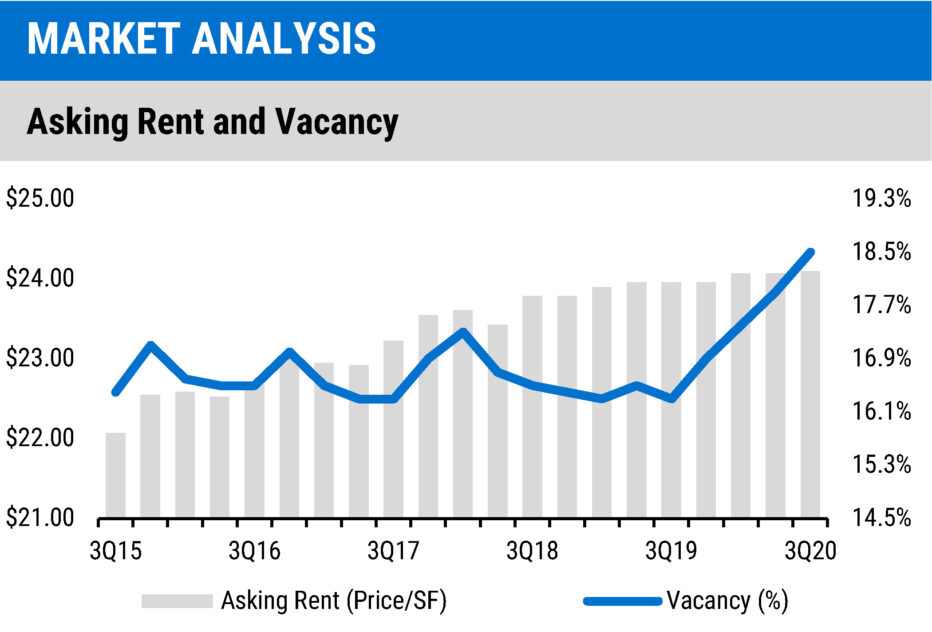 Office occupancy is a function of employment. Until there's a medical solution to the COVID-19 virus outbreak, employment will be significantly lower than in February 2020. At last week's meeting of the Federal Reserve Bank, the governors looked forward to unemployment staying below eight percent at year's end and a steady decline in unemployment that returned to the four percent range in late 2022 or 2023. It won't take that long for office occupancy to tick back down in Pittsburgh, but it's worth remembering that 1) Pittsburgh's office market was much softer in February 2020 than in February 2017, and 2) the speculation about declining office demand because of COVID-19 response is not unfounded.
The Fed's observations about the economy were made before the Trump administration walked away from negotiations over a third major economic safety net package. The House of Representatives hurriedly passed a $1.3 trillion bill last week that was set to provide direct aid to households, additional assistance to small businesses, and funds for state and local governments, which have seen their revenues decimated. Aid for local government is particularly critical to the economy, according to the Fed. The bill contained a number of non-economic provisions that the Senate was not likely to accept but there was the basis for negotiations to continue. Reactions to the president's shutdown of negotiations have been strongly negative and the White House today hinted that discussions had re-started. That would be good news. Fed Chair Jerome Powell cautioned in the FOMC minutes that the risk from providing too little aid was much greater than overshooting government intervention, especially since inflation remains well below two percent. Absent more assistance, the economy is expected to remain in declining GDP growth through the winter.
Regional construction activity has begun to pick back up, with more bidding and RFP's out. Carlow University is looking for developers to partner in its proposed 400,000 square foot research/mixed-use tower in Oakland. Cavcon Construction is starting work on a $4 million-plus Education and Tech Center in Indiana PA for Westmoreland Community College. New-Belle Construction was awarded the $4 million new manufacturing facility for Barchemy in Donora. Facility Support Services was awarded $2.7 million in contracts for renovations to the Dept. of Energy National Energy Technology Lab in South Park. PJ Dick is the contractor for $3 million in renovations to Aramark concession areas at PPG Paints Arena. A separate $1.5 million package of renovations for Rivers Casino at PPG Paints is out to bid to Mascaro, Massaro, and PJ Dick. Turner Construction is doing preconstruction on the $35 million AGH Neurology Center for Excellence.