It's going to be Labor Day until we have a (somewhat) reliable read on just how much the economy is re-opening. There has to be back-to-school before there is back-to-work. Colleges have to see what kind of decline in enrollment the pandemic has created. This will vary. The significant chunk of businesses that make their livelihood during the summers will know how that went. What all of this will depend upon is the consumer returning from sheltering at home to spending. There's some good new there. The savings rate for U.S. consumers is at an all-time high. The $1,200/person checks and shutdown of most businesses kept a lot of cash in the pockets of consumers. Readings on consumer sentiment suggests that people are itching to use that dry powder. That would be good for business.
There are a variety of good news reports since the late May/early June opening of most states. The housing market is probably the best news. Housing starts bounced back 5.4% in May and permits were up 14.4%, a good sign for June and July. The NAHB Market Index jumped to 58 in June. Consumer spending jumped 18% in May, basically reversing a similar decline in April. Thursday morning's report on new unemployment claims showed 767,000 fewer people on continuing unemployment, dropping the number to 19.5 million.
That unemployment claims report also had bad news, of which there is still plenty. During the week ending June 13, an additional 1.48 million people filed for unemployment for the first time. That's down slightly from the week before and a continuation of an 8-week trend since the peak of job losses in April, but 1.48 million new claims is about 7 times the filings in February. The more concerning news is the increasing number of hospitalizations and infections across 26 states, including several of the largest hot-weather states. Sadly, this has become a political issue as much as a public health issue, but the long and short of the problem is that COVID-19 cases are rising sharply instead of falling as hoped. Should this surge go on, there will be economic damage in the South, Southwest, and West. The big increases are in Florida, Texas, Arizona, Georgia, California, Oregon, and the Carolinas. Those are red, blue, and purple states. COVID-19 has proven to be color blind. If conditions worsen, even reluctant elected officials will have to consider mitigation. Arizona stopped elective surgery again, meaning hospitals will face steep revenue declines. Even without mitigation or shelter at home, private citizens and businesses have shown they will pull back. Disney delayed opening its California parks until after July 4, for example. The places experiencing a spike are also among the most popular travel destinations or business hubs in the U.S., which means there will be spreading into other regions from these hot spots. We won't have to wait for Labor Day to see how this plays out. By mid-July the efforts to tamp down the flare ups will be measurable.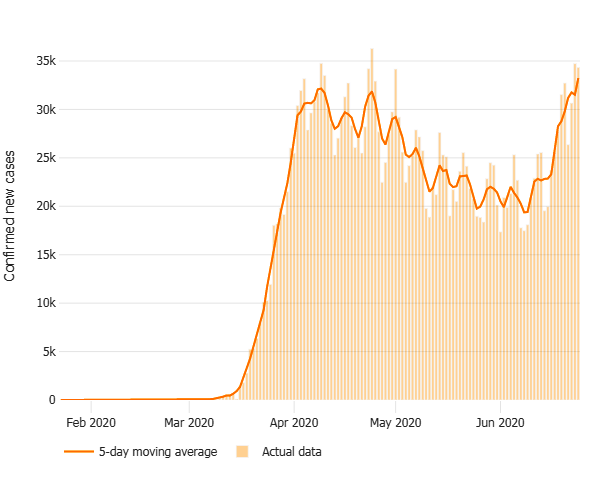 Regional construction bidding slowed considerably in June. Bidding is picking up a bit into July, which is typically a slower month for bidding activity. The $55 million Evans City Elementary School bids July 14. ALCOSAN's next project, a $22 million upgrade of its Return Activate Sludge facilities is due July 8. PJ Dick is starting work on the $15 million Ihmsen Hall at Mt. Aloysius College. Rycon Construction is doing a new $2.2 million branch for Chase Bank in Bridgeville. A report on the region's largest construction project: about 25% of the workforce has returned to work at Shell's Monaca project. The virus safety measures are expected to reduce the peak labor force from 6,000 pre-pandemic to 4,000, which will add six months or so to the original completion schedule.
Based upon activity through May, our estimate for construction starts in metro Pittsburgh for the first half of 2020 is $1.71 billion. Given the overall economic picture, there is going to be less activity during the last six months of the year. Activity for 2020 will not reach $4 billion, and could be off as much as 30% from the $4.8 billion forecast at the beginning of 2020. Activity in the technology sector is encouraging, especially to the degree that the research at Pitt and CMU are still supporting dynamic, high-demand technology solutions to problems like the coronavirus and cybersecurity. A medical solution by early 2021 could unleash enough pent-up demand to recoup the construction that wasn't executed in 2020. Pittsburgh's construction industry, in the meantime, is left waiting for such a solution.