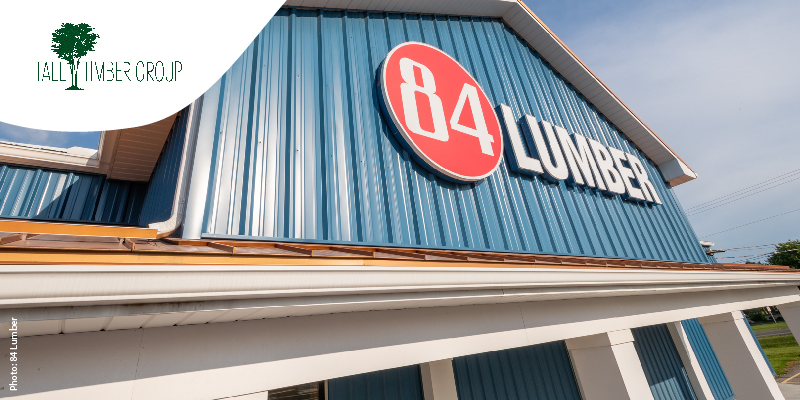 84 Lumber was founded in 1956 by Joe, Norman, and Bob Hardy in the Southwestern PA town of Eighty Four. In 60 plus years of operation, the lumber company has added hundreds of locations across the country including New York, Massachusetts, Florida, and more. As part of this expansion effort, 84 Lumber has recently secured a $310 million loan which will replace a pre-existing $400 million dollar loan secured in 2016. Since that time, the company's performance has exceeded expectations and its market competition, leading to the opportunity for a more favorable loan arrangement.
Today, we will review the details of 84 Lumber's $310 million dollar cash injection, review the business history of 84 Lumber, and discuss the impact that this deal and ongoing 84 Lumber projects will continue to have on the local commercial real estate market. 
84 Lumber Looking to Expand with $310 Million Loan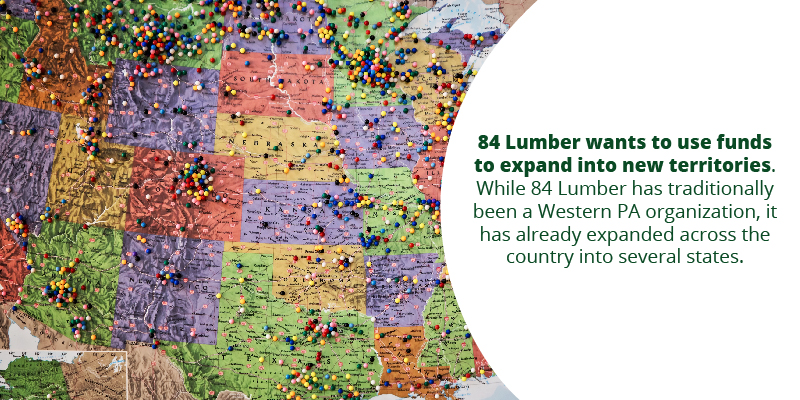 There are several key reasons why 84 Lumber's loan restructuring is significant for the company:
84 Lumber is looking to improve their IT capabilities. Regardless of industry, information technology is a part of any large business. One of the primary drivers of this new $310 million loan is 84 Lumber's desire to modernize their IT infrastructure to improve client relations and their internal systems.
84 Lumber wants to use funds to expand into new territories. While 84 Lumber has traditionally been a Western PA organization, it has already expanded across the country into several states. This new influx of capital will allow the company to potentially expand into new territories including Sacramento, CA and Northern Virginia.
The loan will allow for financial restructuring. According to recent reports, the final primary reason for this new loan is to refinance. "The proceeds will be used to refinance the $307.5 million outstanding Term Loan B and $400 million ABL Revolver. In addition to extending the maturities, the Term Loan B reduced pricing by 100 basis points to LIBOR plus 425 basis points. As a result of the refinancing, the company now has no debt maturities prior to 2024."
A Brief History of 84 Lumber's Business Expansion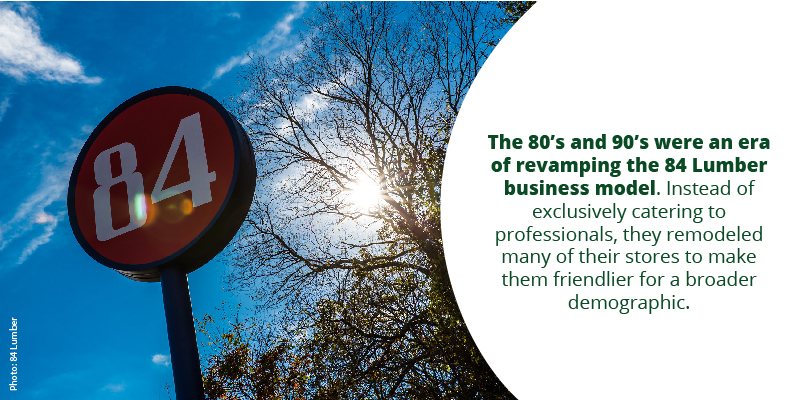 To understand the significance of this new loan, we can also explore the history of 84 Lumber's presence both locally and nationally.
84 Lumber is founded in 1956 by Joe Hardy alongside his two brothers Norman and Bob, and close friends Ed Ryan and Jack Kunkle. The initial business model was a "

cash and carry

" lumber yard where industry professionals and handymen could come buy affordable, high quality products. The business was modest but immediately successful.

In the 1960's, the business experienced its first major expansion by growing their local business with new locations, bigger warehouses, and a larger inventory supply. The first years of 84 Lumber's history involved fast yet sustainable growth.

The 1970's saw 84 Lumber opening an additional 229 locations, expanding beyond the immediate Western Pennsylvania market for the first time. 

The 80's and 90's were an era of revamping the 84 Lumber business model. Instead of exclusively catering to professionals, they remodeled many of their stores to make them friendlier for a broader demographic. 

84 Lumber hit $1 billion in sales for the first time in 1993.

In 1997, 84 Lumber opened its 400th store.

Today, 84 Lumber is refocusing on its information technology sector to move the business into the next decade seamlessly. The company accrued $3.86 billion in sales in 2018, and continue to enjoy healthy growth.
Impact of 84 Lumber on Local Commercial Real Estate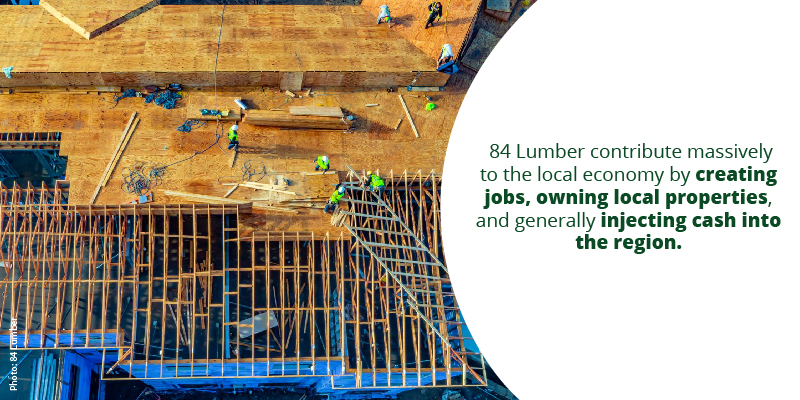 The relationship between 84 Lumber and local commercial real estate is actually somewhat complex. On one hand, 84 Lumber contribute massively to the local economy by creating jobs, owning local properties, and generally injecting cash into the region. On an entirely different level, having the "nation's leading privately held supplier of building materials, building supplies, manufactured components and industry-leading services for single- and multi-family residences and commercial buildings" in our backyard has a material impact on the CRE market as well.
Due to this unique circumstance, 84 Lumber is as entrenched as any local company when it comes to commercial real estate. While other organizations like PNC and UPMC may own and operate significantly more locations, 84 Lumber is a major player within the CRE industry itself. Pittsburgh commercial real estate can certainly look to 84 Lumber's continued success and expansion with recent deals like this $310 million loan restructuring as a sign that our market will continue to hold strong.
Going Forward
84 Lumber's steady growth and solid leadership is encouraging. With favorable loan agreements and new stores going up every year, the banks clearly agree. Having such a large commercial real estate building supply provider in Western PA offers a unique advantage to local construction crews. While the company continues to expand across the country and perhaps internationally, they retain a large presence in the Pittsburgh area and have no plans to relocate any time soon. 84 Lumber's continued success can only be a positive sign for commercial real estate in our region.