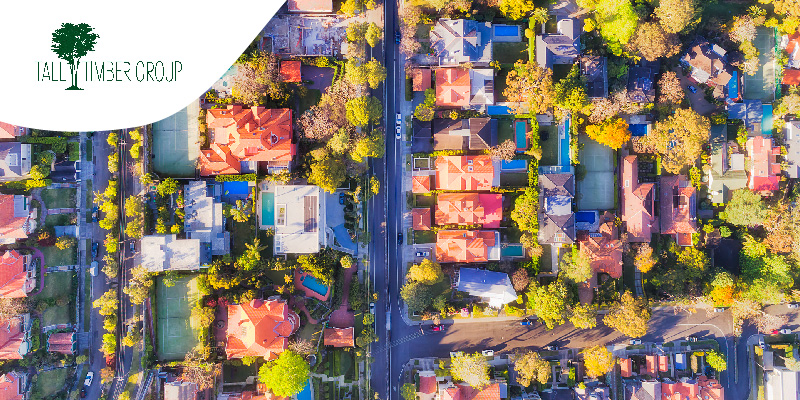 We tend to think of urban areas and suburban areas as completely different entities. One is filled with skyscrapers and buslines and the other is filled with houses with picket fences and well maintained landscaping. In reality, the line between these two residential and commercial real estate areas is continuing to blur in 2020. This trend is holding true in mid major cities like Pittsburgh and large cities like New York and Boston alike. So called urban suburbs are extremely appealing to young renters/home buyers as well as businesses. This is because they mix affordability with convenience and amenities. 
This trend is what has driven the surge in investment and migration to neighborhoods like East Liberty, Lawrenceville, and, 20 years ago, the South Side. And it's what is driving the speculative investment in next-level urban suburbs like Sharpsburg, Millvale, Carrick, and parts of the North Side.
With this in mind, today we will discuss the rise of urban suburbs by defining urban and suburban areas, pin down what it means to be an "urban" suburb, and why younger Americans are pushing real estate trends in this direction. 
Defining Urban and Suburban in 2020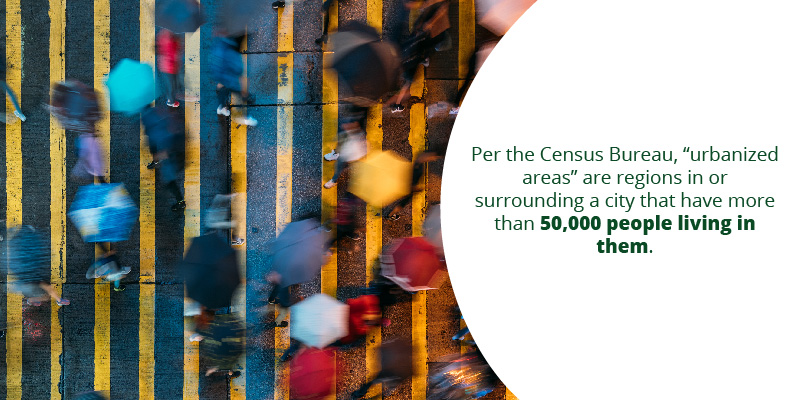 Per the Census Bureau, "urbanized areas" are regions in or surrounding a city that have more than 50,000 people living in them. If these neighborhoods are within the limits of a city, they are thought of as urban, and if they are outside city limits, they are colloquially referred to as suburban. Urban clusters, on the other hand, are urban areas with fewer than 50,000 people. In a more general sense, we tend to think or urban areas as being more metropolitan with less space, more people, and greater access to amenities like public transportation and entertainment. 
Suburbia exists somewhere between urban and rural living. One of the definitions of the word suburb reads: "the residential area on the outskirts of a city or large town". While this has traditionally been true and still remains true in many cases, the residential aspect of this definition is changing. Commercial real estate in the suburbs is extremely active and lucrative as many individuals look to live, work, and play close to urban environments without the hassle of fighting against rush hour traffic.
What are "Urban" Suburbs?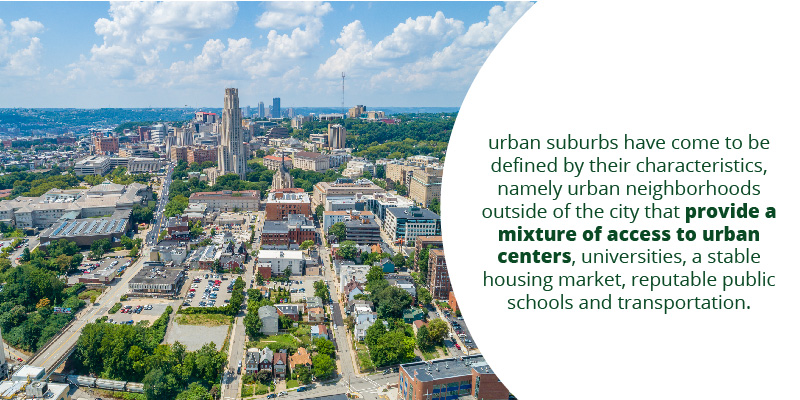 Despite a great deal of focus being placed on the idea of a Great Inversion, where affluent Americans are favoring cities over suburbs, the majority of Americans today continue to live in suburbs. Although it is true that some suburbs are facing challenges, many that are referred to as "urban suburbs" are thriving. In lieu of an official government definition of what constitutes a suburb, let alone the different types of suburbs, urban suburbs have come to be defined by their characteristics, namely urban neighborhoods outside of the city that provide a mixture of access to urban centers, universities, a stable housing market, reputable public schools and transportation. 
An example of an urban suburb is Mount Lebanon, an affluent neighborhood 7 miles south of Pittsburgh, with a median home value of $209,506, a reputable public school system that has won multiple National Blue Ribbon School awards, and a light rail system that provides easy public transportation to downtown Pittsburgh. Uptown Mount Lebanon has another key feature of urban suburbs: a booming business district with hair salons, cafes, shops, galleries, restaurants, and banks. Other national examples of larger suburbs with a more urban atmosphere include Grandview Heights, OH and Mountain View, CA. 
Younger Americans Prioritize Convenience and Amenities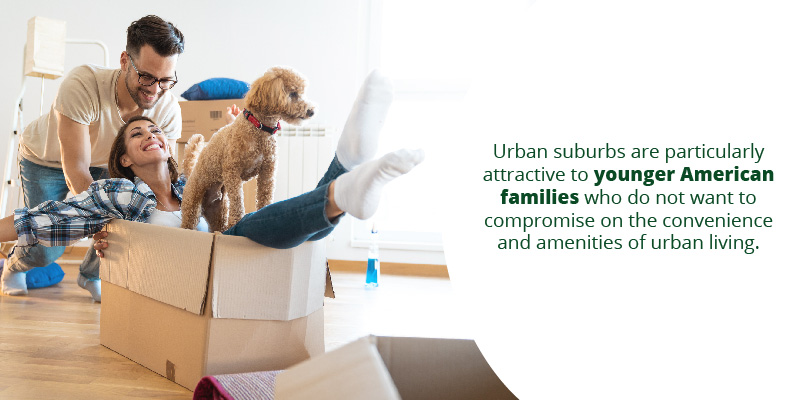 Urban suburbs are particularly attractive to younger American families who do not want to compromise on the convenience and amenities of urban living. They allow families to invest in their stable housing markets, reputable school districts, and enjoy access to business centers and easy transportation to metropolitan areas. Both renting and buying in these markets is attractive, as debt-ridden millennials who are parents may want easy transportation to their city jobs and favor renting in these areas for their school districts. For instance, almost 30% of residents in Mount Lebanon choose to rent, with the median rent coming to $861. 
With the numerous websites and mobile apps geared towards renting and buying property, these desirable characteristics are easier to search for than ever. For instance, real-estate websites such as Zillow offer school ratings, commute times, walk scores, and transit scores under each property listing. With 81% of older millennials using mobile apps to find their homes, urban suburbs with high walk, transit, and school scores are coming out on top. 
Going Forward
The rise of urban suburbs offer many takeaways. Suburban neighborhoods who are struggling to attract new home buyers can consider ways of increasing access to transportation to a nearby city. Trends show that urban suburbs offer many opportunities for both residential and commercial real-estate. Government agencies may benefit from defining suburbs and sub-types of suburban neighborhoods to better study trends. In the meantime, the rise of urban suburbs are a respite for those who are looking to rent or purchase property in a good school district but do not want to compromise on urban amenities and public transportation