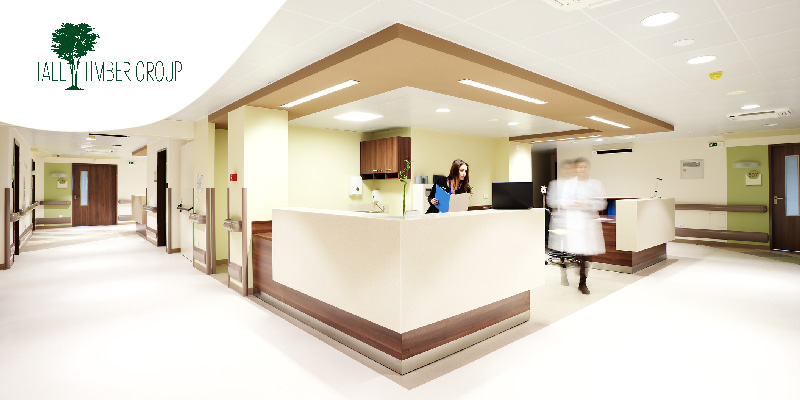 Commercial real estate, like many investment-based industries, can experience major flux over time. Yet certain CRE investments are safer than others due to strong demand and profitable business models. Medical office buildings have been a strong choice for CRE owners and investors for many years. We believe that this trend will not only continue, but trend towards greater value for investors. Some investors are hesitant to enter into this space for fear of policy change and bureaucratic red tape making the future murky. While these are certainly relevant considerations, today we will be reviewing why the pros of medical office building investment outweigh the cons.
The Value of Medical Office Properties
In order for an investment to be a safe bet, it must first be determined that the asset has value. Medical office property values have skyrocketed in recent years. Here are just a few reasons why.
Supply and Demand Favors Property Owners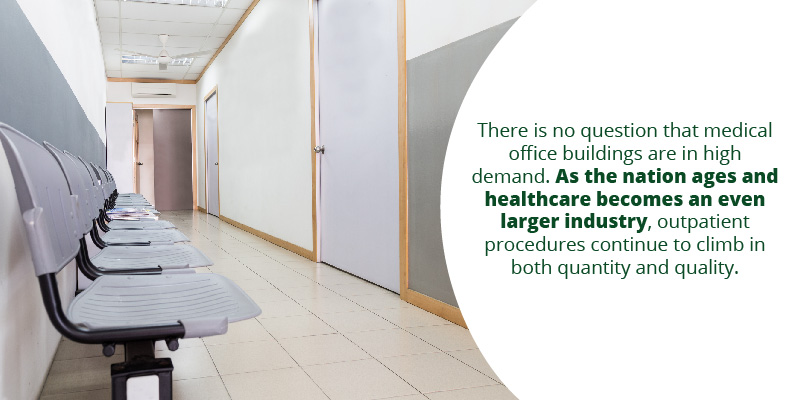 There is no question that medical office buildings are in high demand. As the nation ages and healthcare becomes an even larger industry, outpatient procedures continue to climb in both quantity and quality. That handles the demand part of the equation. As for supply, medical office buildings often require specific layouts and capabilities which must either be designed from the ground floor or retrofitted into older properties. Simply put, there aren't enough office buildings to handle the current demand. This obviously puts a premium on those properties which do exist and even those which are good skeletons to be converted into medical offices down the road. 
The Medical Industry is Booming
Say what you will about our nation's healthcare system, but there is more than enough money to go around. No matter if we continue with Obamacare and other current policies, roll back current policies, or go in the other direction and establish Medicare for All, money will continue to pour into our medical care infrastructure. The reason is simple: the medical industry is extremely strong and will likely remain so for many, many years. When you combine favorable supply and demand with a cash-rich industry, that equates to high value investments.
Flexible Medical Office Layouts Add Value
On a more specific note, the future of medical technology is moving to a format which enables physicians to perform a wider range of tests within their offices rather than sending patients to specialists. For this and many other reasons, flexible medical office structures offer a unique value to investors and to lessees by allowing for greater capability and flexibility of care.
Why Medical Office Buildings are a Wise Long-Term Investment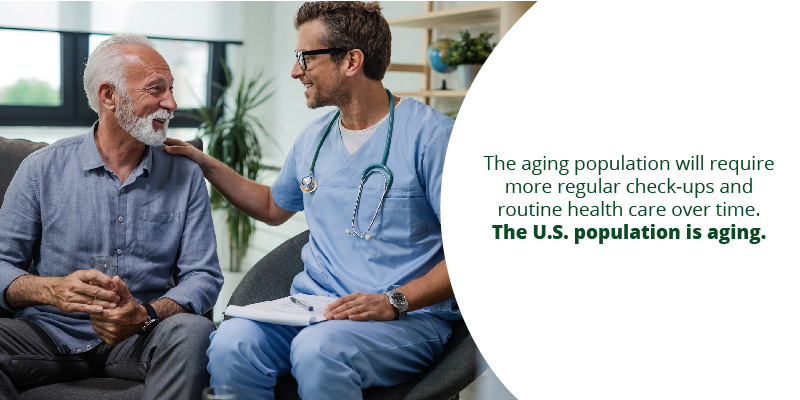 There are many reasons to believe that medical office buildings have strong value in today's marketplace, but how can we be so sure that they will be a wise long-term investment? Medical office properties offer a unique safety net for investors for the following reasons:
Customer convenience means location is becoming more and more important.

Nobody likes going to the hospital. This is particularly true when medical offices are more convenient from a location and practical standpoint. 
The aging population will require more regular check-ups and routine health care over time.

The U.S. population is aging. This is particularly true in areas like our own Western PA region where one in five residents will be 65 or older by 2025.
Outpatient procedures are outpacing hospital stays.

Outpatient procedures are viewed as more favorable by patients, healthcare systems, and doctors alike in the majority of cases. Obviously some medical procedures absolutely must be performed in hospitals. For more minor procedures and checkups, the future is trending towards medical offices and away from hospitals. 
Pittsburgh's Medical Industry and Aging Population = Strong Medical Office CRE Market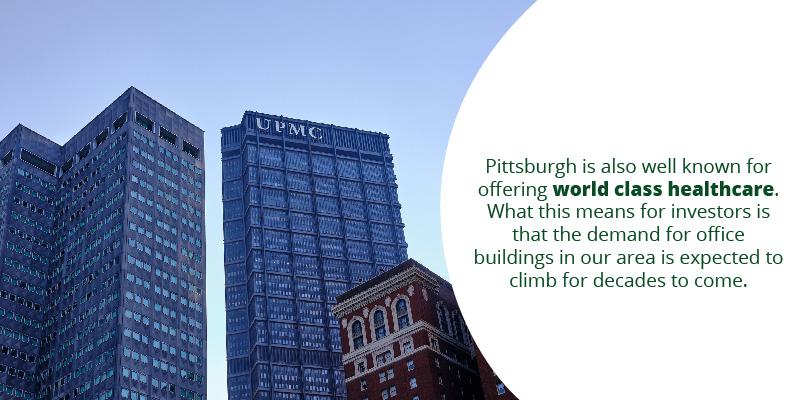 As we mentioned in the previous section, our region's population is aging rapidly. An aging population leads to greater medical care demands. Pittsburgh is also well known for offering world class healthcare. What this means for investors is that the demand for office buildings in our area is expected to climb for decades to come. As this demand climbs, well-funded organizations such as UPMC will have more than enough desire and capability to either purchase or lease medical office buildings at a premium.
Given the Pittsburgh region's population trends, there is perhaps no safer commercial real estate bet than medical office properties. There is every reason to believe that UPMC and other local medical research facilities will continue to attract the best medical professionals from around the globe to keep our local medical economy strong.
Going Forward
It is impossible to speculate on the future of real estate, no matter how many positive indicators exist. As far as safe bets go, medical office buildings are about as close as you can hope to get. Aging populations, a demand that outpaces supply, a medical industry flush with cash and resources, and the national trend of outpatient procedures overtaking hospital procedures all add value to medical office properties. Medical office buildings are a unique beast, and all investors are also encouraged to understand the intricacies of medical office layouts and realistic expectations before taking the plunge.