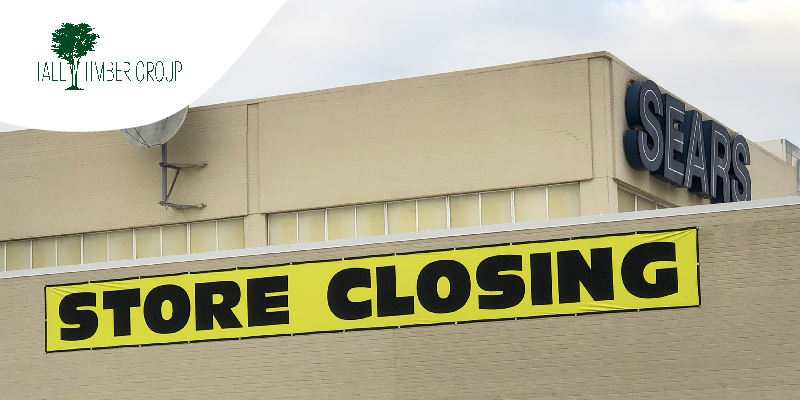 Sears has undergone a well publicized downturn in recent years, culminating in Sears Holdings Corporation filing for Chapter 11 Bankruptcy. As a result the once retail stalwart has closed huge percentages of their brick and mortar stores including both Sears and Kmart locations. The impact on retail commercial real estate has already been felt and will continue to make waves in the months and years to come. From the perspective of CRE investors, the news of Sears closing another set of stores isn't all bad news. Sears is not in trouble simply because they operated as a big box/department store in the modern market, there were large organizational problems which led to the downturn.
Let's look at the latest round of Sears and Kmart location closures, how these closures are impacting commercial real estate in Western Pennsylvania, and explore why Sears and Kmart retail failures are not necessarily indicative of the state of brick & mortar viability moving forward.
Sears to Close Over 1/3rd of Their Remaining US Locations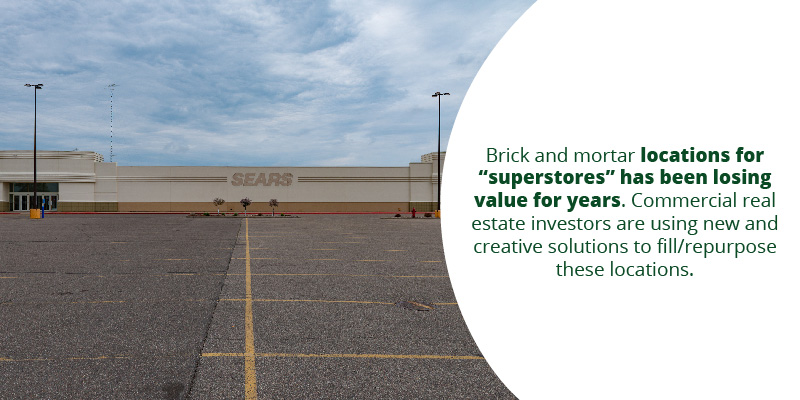 The news in Q4 2019 is the announcement that Sears is planning to close 96 Kmart and Sears locations by February 2020. This announcement comes not long after the Sears Holding Company filed for bankruptcy in 2018. To put the latest round of closures in perspective, there were over 2,000 Sears and Kmart locations in 2014. After the 96 Sears and Kmart stores close in early 2020, only 182 locations will remain in the US. Quick math tells us that over 90 percent of retail locations for the company have closed within a 5-6 year period.
There are a few key takeaways from this total story and latest announcement, all of which we will go over in greater detail below:
Brick and mortar locations for "superstores" has been losing value for years. Commercial real estate investors are using new and creative solutions to fill/repurpose these locations. Sears and Kmart closures are an extreme example of an overall trend.

Sears filed for bankruptcy due to terrible business decisions, not their meat and potatoes business model. Poor executive hires, mismanaged assets, and lack of spending have all led to Sears' downfall. Other similar stores such as J.C. Penney, Kohl's, and Best Buy are surviving and thriving.

Commercial real estate has been impacted by these closures, but not necessarily in a bad way. Occupancies in prime real estate have been turned into lucrative opportunities from shrewd property owners and investors.
Sears and Kmart Closures in Western Pennsylvania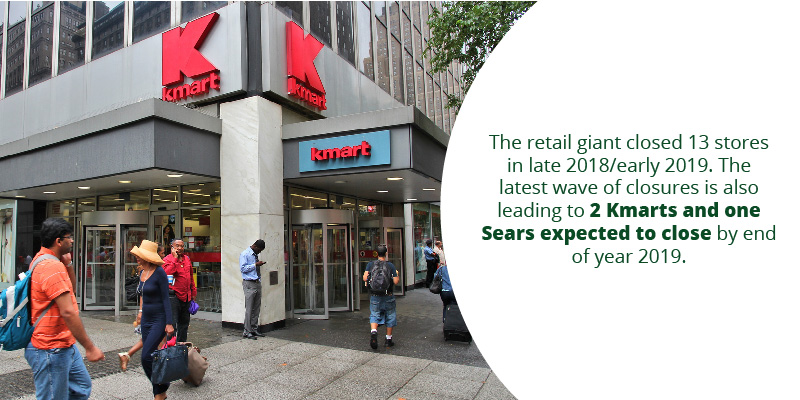 Bringing the attention to our region: how have Sears and Kmart closures impacted local real estate? The retail giant closed 13 stores in late 2018/early 2019. The latest wave of closures is also leading to 2 Kmarts and one Sears expected to close by end of year 2019. In Pennsylvania, Kmart locations in Leechburg, New Castle, Armstrong County, & Lawrence County are all expected to close by winter's end. The Washington Crown Center in Washington, PA will be closing as well.
It goes without saying that Sears is in big trouble nationally and locally. For commercial real estate investors, this might have an impact for those with vested interest, but likely will not have a huge impact overall. Retail locations continue to offer a solid return on investment, albeit with  a slight downturn in profitability in recent years. The key regionally and nationally might fall on investors to move away from huge, warehouse style locations and develop CRE into move profitable layouts.
What Went Wrong with Sears?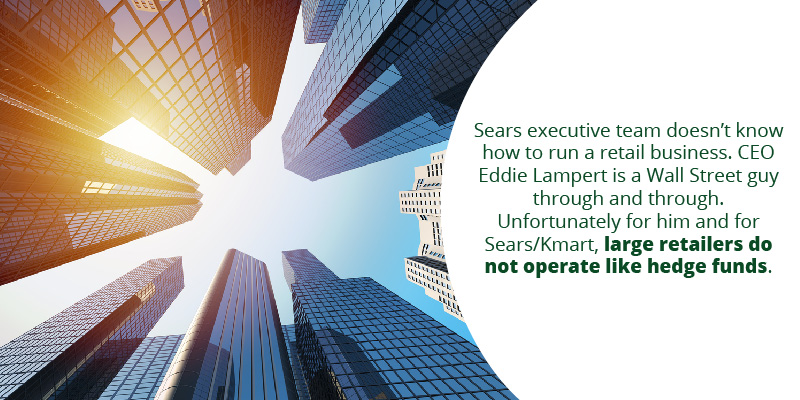 This all begs the question, what the hell happened to Sears? The retail giant began in the late 1800's and enjoyed more or less on a steady climb for the first 100 plus years of its operational existence. While many point to a joint venture with IBM and CBS called Prodigy as being the beginning of the end, the fact of the matter remains that it took many egregious missteps over many decades to fall so far so fast. Here are just a few:
Sears lost its message and its value proposition. If you are anything like me, you might not remember the last time you thought "Sears is actually where I need to go for x product". Once a one-stop shop for tools, lawnmowers, and TVs, Sears truly lost its way when they over diversified. Muddying the waters and confusing customers in the process.
Sears made multiple poor investment decisions. At the time Kmart merged with Sears in 2004, the holding company owned massive swaths of commercial real estate. In subsequent years, they have sold off much of this valuable real estate for cash. These locations are worth far, far more today than they were at the time.
Sears executive team doesn't know how to run a retail business. CEO Eddie Lampert is a Wall Street guy through and through. Unfortunately for him and for Sears/Kmart, large retailers do not operate like hedge funds.
Going Forward
There is likely no short term solution for Sears and Kmart. Store closures may continue or they may freeze, but the damage has been done. Nearly all of the billions of dollars of assets owned by the company has been sold or liquidated in recent years with very little in the way of reinvestment into the business. From the perspective of local and national commercial real estate, Sears may be less of a cautionary tale than a pariah. If Walmart can successfully operate nearly 5,000 locations in 2019, superstores themselves are not the problem.